My 2023 Flying Adventures
Jan, 2023
Flew to Mayfield, KY - M25 for their Fly-in Breakfast, 3rd Sat. every month, pretty good stuff!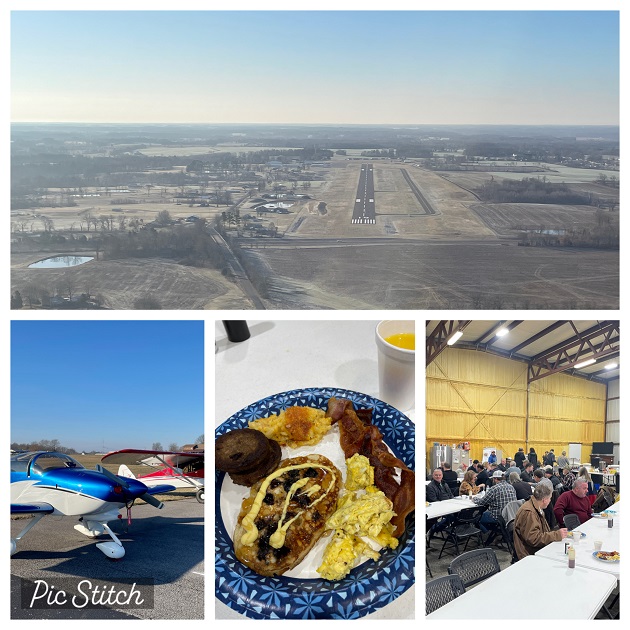 I took a buddy from Church flying. He is thinking about possibly taking flight training and wanted to see what it was like to fly a small plane.
Feb, 2023
I flew to Anderson, SC to visit my sister, her husband and my Mom. The airport is about a 20 min drive from their house. It is a 2 hr. flight or a 6 hr. drive to get there. Nice having a magic carpet. They have a very nice airport there. It was a perfect day for flying!
After getting back from South Carolina I decided to start working on my Condition Inspection. I started with the Service Bulletin crack checks. Got the wings finished and moved on to the tail. I drilled holes in the outboard horizontal stab ribs to check for the latest SB, outboard rudder attach bracket cracks. Got the holes for the boroscope drilled and checked them for cracks, no cracks. Next check was the Inboard horizontal stab spar crack check. I found a crack on the rh side. I will have to installed the repair kit that includes some doubles that have to be installed, to do that the complete tail has to be removed. I spent the rest of the day removing all of the tail.
This service bulletin fix is quite in depth. There is a lot involved with it. There is some disassembly that really had me wondering if I would be able to rivet it all back together properly.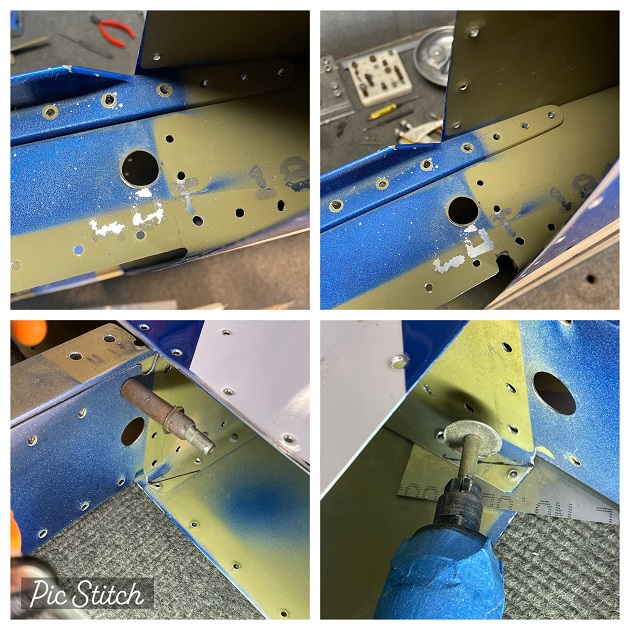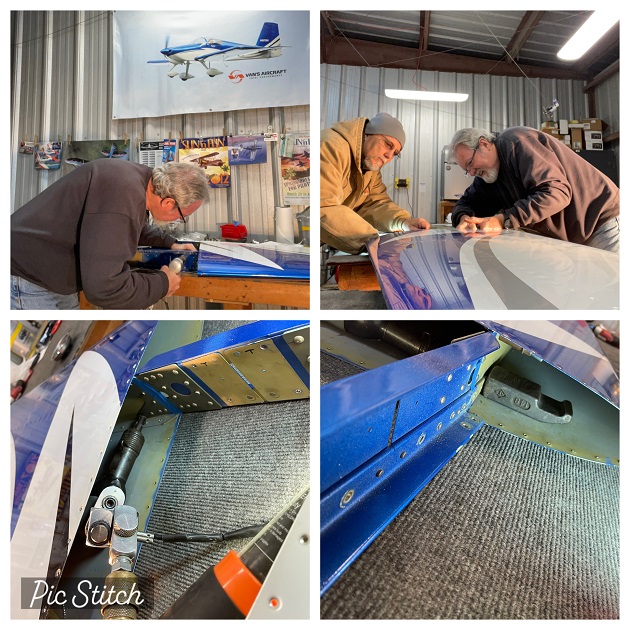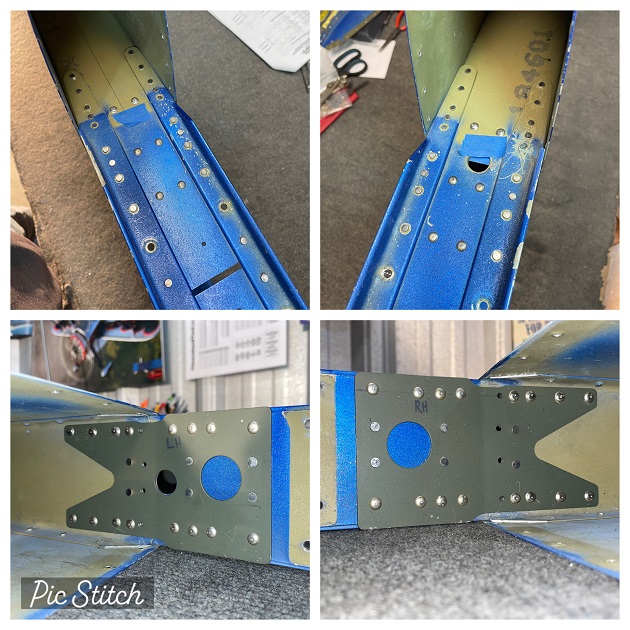 Well I had my doubts but it ended up not being that bad. I had to get a little help from my buddy David, but it went pretty smoothly. Only thing left now is modifying and installing the ribs that had to be removed to access this area. I actually cut the wrong flange off the first rib I was working on and had to order a new one along with another part that I'd need. The parts shipped the day after I ordered them and will be here in about 3 days. while waiting for these parts I continued on my annual condition inspection. I took the top section of the baggage wall down and inspected everything behind it. I found the jam nuts on my autopilot push rod loose. This is why we do these annual inspections.
I took the front tire off and cleaned and greased the bearings. Then drained the oil and removed, cleaned and reinstalled the sump screen, and replaced the oil filter. I installed a new AntiSplat oil sump heater so I can set my timer to turn it on a few hours before a winter time flight to warm the oil and engine up. Added new oil. Compression checks, replaced the top auto plug and cleaned & rotated the bottom aviation plugs. Adjusted the mag timing. Should be good to go until next oil change time.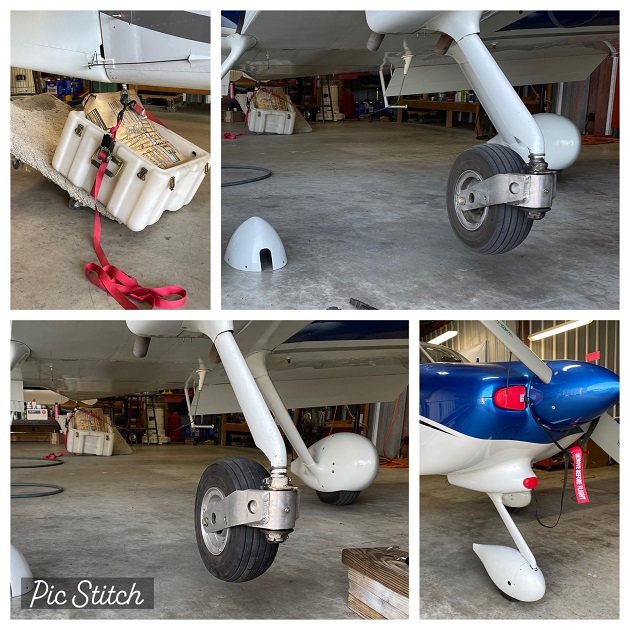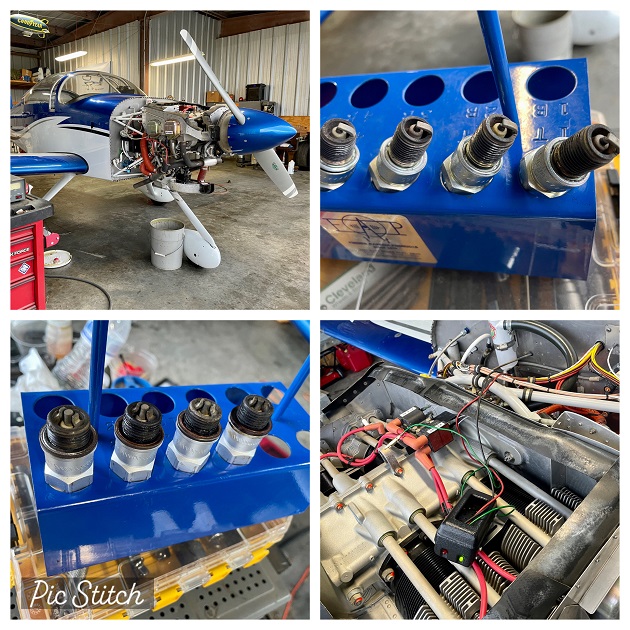 A buddy from work needed to possibly buy and pickup a car from Atlanta, GA, so off we went to Fulton County Airport. He bought the car and I beat him home by a few hours :-)
My granddaughter Alivia decided that she wanted to fly today, so we checked out the water park and the boats at the lakes.
Jun, 2023
There are some areas around town that have some changes coming. There is a new industrial park area being built between Hopkinsville and Pembroke and a new bypass around Pembroke.
There are new housing developement around town, one of them is apartments being built in an oval with a center grass area that reminds me of the cartoon Backyardagans, all of the front yars create the center grass play area. Then there is the subdivisions shown there in the middle and bottom pictures that can be called noyardagans. The top right picture is the lot at Country Club and Lafayette Rd. that is just being smoothed out to a level lot.
Marsha and I flew to Bowling Green, KY the EAA chapter had grill out dinner and an award presentation. They presented Gary Wickliff the Write Brothers Master Pilot Award for practicing safe flight operations continuously for 50 years or more.
I flew to the Gallatin, TN Fly-in Breakfast, it is one of the most attended breakfast around, there are alot of locals that drive in to eat and alot of airplanes fly in also. I think I counted 3 Blackstone grill cooking bacon all at once.
This next trip is one I had been wanting to do for some time. I have an uncle and aunt that lives in a really nice Masonic assited living community in Scwickley, PA and their son, Chris (my nephew) lives in Nashville, TN. Chris drove up and met me at the airport. We loaded up the plane, plugged in the flight plan and off we went. It was really hazy but good weather. It was a 3 hr flight so I choose to land short (Circleville, OH) for some cheaper fuel. We continued on to Zelienople, PA and Chris's parents pick us up. We planned to spend the night with them and then head back home the next day. We had a very nice viist, I hadn't seen them in quite a while. The place they lived in was amazing. There are a number of apartmnet type building in the community and they have events and places to keep everyone busy with fun things to do. They have a community dining room downstair in each building with some amaing food. We had diner there. My aunt made us breakfast in their apartment the next morning. They took us back to the airport, we loaded up and off we went. We landed at 0I8 - Cythiana, KY for some cheap fuel on the return trip. We had a very nice trip and visit. I'd like to make this trip again next year.