My 2018 Flying Adventures
2018 - Now with the autopilot installed, the longer trips will be easier. I'm hoping to make it to Sun-n-Fun - Lakeland, FL, back up to Belfast, ME and Petit Jean, AR this year.
Jan. 2018
Saturday Jan.6, It's a cold day and I didn't get up early for breakfast but wanted to fly somewhere. Warmed the engine up for an hour and a half. I have a small electric heater with a duct that directs the heat up and into the exhaust area. I also have foam plugs that fit into the cowl holes. This works very well. The only bad part is having to get to the airport and hour before departure. I didn't really know where I was going to go. Right after takeoff I decided to head up to Skylane airstrip just west of Evansville, IN, I wasn't sure if anyone would be around. It was a beautiful day to fly. The approach into Skylane is very interesting. You have to descend below KEVV airspace and enter a keyhole from the west. That puts you on a right base, you can't really see the runway until your about to turn final on your GPS. 1000' turning final over buildings to a grass strip that you just saw a few seconds ago. After landing I saw a buddy look out the door of the club house. Inside there was a fire going a couple guys warming up near it, I pulled up a chair and joined them. Now this is a club house! I hung around for a while and checked out a few projects. On the way home I checked out my slip-on sunglasses to see if they still fit my new glasses, yep! I know sexy also :-) Did this while my new autopilot did the flying, right on course plus or minus 10' of set altitude, love it! Check out that indicated airspeed 182 mph 2450 on the RPM and OAT 11°.
My hangar doors do not get any sun, so it makes it pretty hard to get the doors open until all the ice is gone. Seems every year there is a good fly day a few days before all the ice is gone. I spent over an hour braking up the ice and clearing the tracks. By the end of the next day all the ice had melted.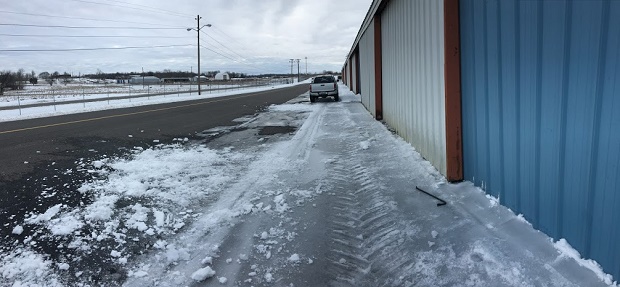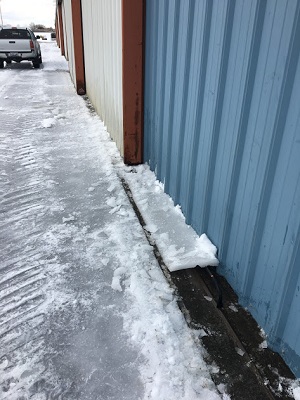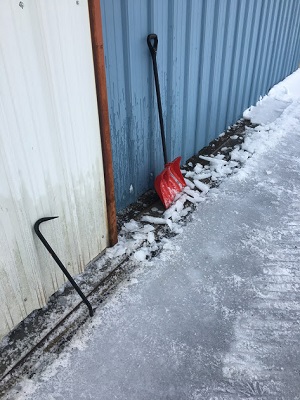 Flew up to Rough River State Park and got a few neat looking pictures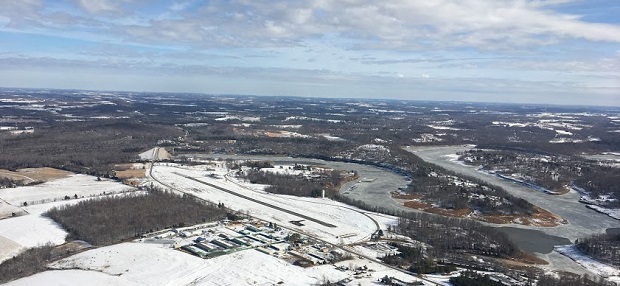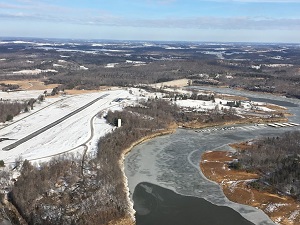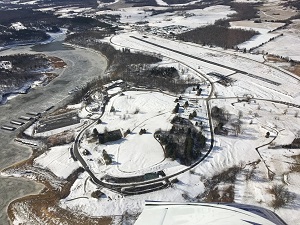 Feb. 2018
Condition Inspection time. This year I decided to replace my intake couplings and oil drain back hoses. Everything else is just the normal stuff, replacing the auto spark plugs, cleaning and packing brakes, bleeding brakes.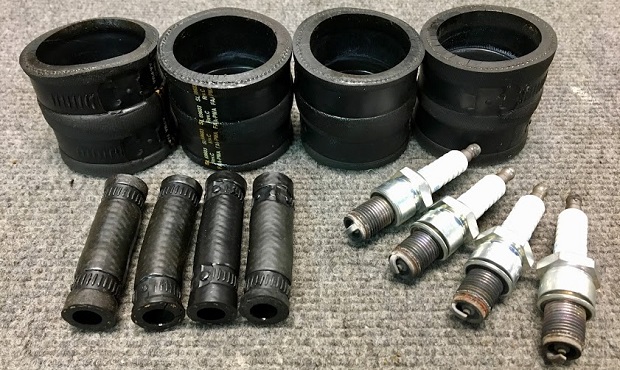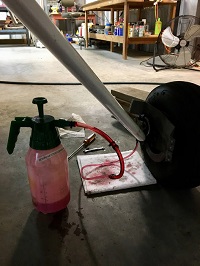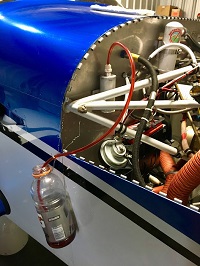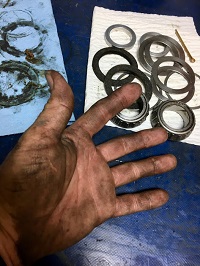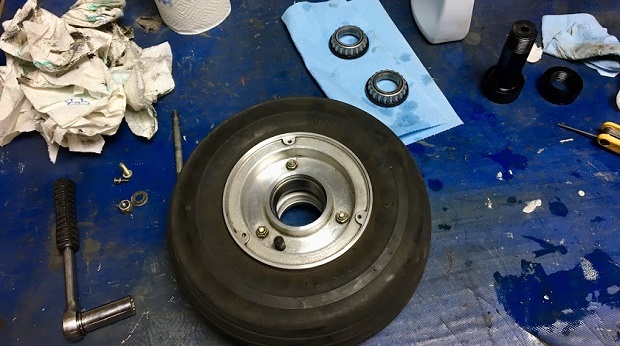 I hadn't flown much lately because it's been raining a lot. On Sunday my wife went to a luncheon with friends so I wanted to fly somewhere to eat. Didn't know where I was going for sure until after I took off. I ended up going to French Lick, IN. I knew they had a shuttle that would pick me up at the airport and take me to the restaurant area. After arriving at the airport I found a courtesy car with the keys in it and a card with the airport managers phone number. I called to make sure it was ok to use the car to drive into town and back. I found a nice sports pub and went inside for lunch. Had a great lunch and then went across the street to check out a gift shop. This is a very nice place to visit. There is a casino which has a nice schedule of well know performers and there are two very nice and big hotels (French Lick Springs Hotel and West Baden Springs Hotel) both which have very interesting history. The strange part is that this area seems to be out in the middle of nowhere, not near any big cities. After putting a couple gallons of gas in the courtesy car I headed back the airport and took off. I flew a little to the northeast to fly over Paoli Peaks ski resort, they had man made snow on the slopes and people where skiing the slopes. Then I headed south west and flew over Saint Meinrad Seminary and then on to Holiday World amusement park in Santa Claus, IN, it was all closed up awaiting the warm weather. Good fly day!
Mar. 2018
The Tennessee Pilot group planned a fly out to Knoxville for lunch so I talked my buddies into flying allow with me and my granddaughter Lainey. We flew into the downtown island airport and ate lunch at Calhoun's.

Click on picture to see more pics of the trip
Apr. 2018
Time for Sun N Fun. I would have taken Lexie or Lainey but they didn't need to miss any days from school. So my buddy Sam Hodges was planning to go and his wife couldn't go, so we both where going to have empty passenger seats. I flew over to his field to talk about the trip and we decided to just fly down together in my plane. This was the Sunday before the Wednesday departure date. On the way home my auto pilot kicked off and couple times and I started getting Red X's on my G3X screens. I went up the next couple days to check it out some more. I was not sure what was causing it and I went back and reseated all the electrical plugs but that did not help. I knew the weather was suppose to be good and my Dynon 10a backup PFD was working fine and my backup 510 gps was working ok as well. So off went went to SnF with my G3X system messing up. I was really looking forward to flying this trip with the autopilot working. Well it was intermittent all the way there and back. at least I got the traffic working before the arrival and before we took off, so we did have a good view of traffic when we needed it most. We had a good time at SnF and we met up with another buddy Paul Redding and when we left we flew over to Cedar Key for lunch and Paul followed us.

Here is a link to the pictures: https://photos.app.goo.gl/yci6HokKq7Xe5bjZA
The weekend after SnF the Tennessee Pilot had a fly out planned to go to Write Patterson Air Force Museum in Dayton, OH. So my granddaughter Lainey and I met them there and went to the museum. I have gone to the museum a number of times when I young and lived in Ohio. Always a neat museum to go to.
When we got back I started troubleshooting my G3X system. Garmin said that they have had some problems with the GPS20a's that did not have a level 1 mode and mine did not so they sent me a new one to see if that would fix it. I swapped it out but that did not fix it. On the ground the system worked but when I would take off the red X's would start flashing. I checked my status page and was getting 100% can bus failures, while flying. So their is a bad canbus connection somewhere and it was not going to be easy to find it. I was scheduled to be away with work for a week and home for a weekend then away for two weeks. All this while the plane was left apart. I did manage to get some troubleshooting done during the weekend home. I isolated the ADAHARS and the two screen from the rest of the system with a new canbus and found that all of that worked fine. Next will be to add the GPS20a to the system to see what happens. Got to wait till I get back home middle of May to do that.
Go back to My 2017 Flying Adventures