My 2022 Flying Adventures
2022 - This years plans. Get the wings repairs painted and finalize the insurance claim. Try to make it to Sun N Fun and maybe Oshkosh. Hopefully get Marsha to take a couple weekend trips.
Jan – Mar 2022
Finished Condition Inspection, rebuild pilot side LH brake cylinder, changed the oil at 15 hrs. in Dec. and went back with the mineral oil till the 50 hr oil change. I got the plane ready just in case all the duck get in a row for Sun-n Fun this year. Talking to Evoke Aviation Design to schedule my plane to get the wings painted. This will finish up the repair from last year. It sounds like they will be able to get me in right after S-n-F.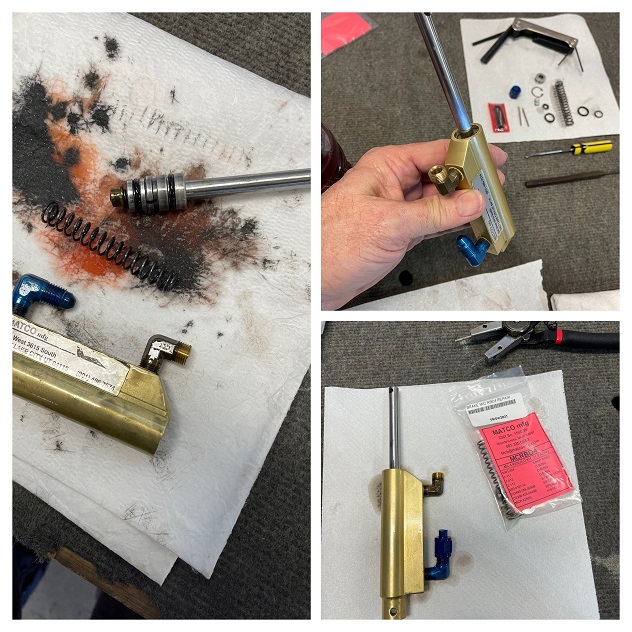 Below is just some site seeing pics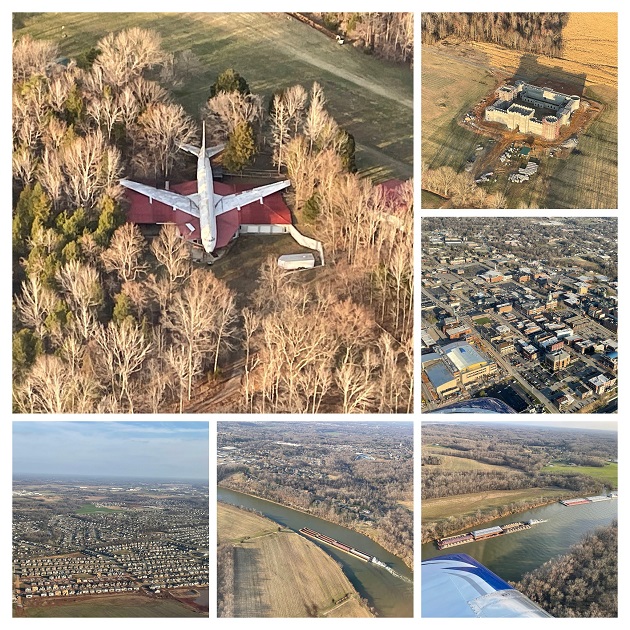 Apr 2022
Sun-n-Fun or bust. The ducks where all in a row and I contacted my buddy Paul Redding to see if he wanted to fly down with me and he said yes! We wanted to go Wed. and come back Sat. but weather did not allow that. We decided that we would fly down to our fuel stop in Moultrie, GA and make a call, what to do from there. Weather was not good all day Thur. at S-n-F, so we could spend the night in Moultrie or it looked like we might be able to make it to Cedar Key, FL. We decided to book a room at Cedar Key and try to make it in there. As we got close to Cedar Key the ceiling got low and visibility got low also, we were real close to turning around but just made it in. It would be seafood for dinner and a room for the night. Our plan was a sunrise takeoff for S-n-F. We were up and at the plane before sunrise and ready to take off as soon as the sun came up. We got everything ready and off we went, no airspeed indication. I forgot to remove the pitot cover. Once around the pattern, landed, removed the cover, and off we went, again. We crossed Lake Parker about 7:45am along with a few others. Later, I saw pictures taken about 8:45am of aircraft holding over Lake Parker and Lake Hancock because of a FedEx plane departure, which was not a good time to arrive. We had a really good time. The Homebuilt Camping Hospitality Tent was hopping and the place to be every night. A cold front had passed through and the temps stayed low the whole time we were there. I took a shower Friday night and I won't do that again if it's been cool all day. The water was ice cold. Saturday night airshow the temp was low 60's but the wind was blowing. I was so cold that I got in the sleeping bag in my tent and didn't watch any of the show. Paul put his sleeping bag on and sit out there in the wind and watched the show.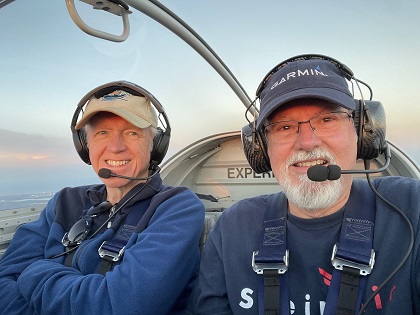 Click the above picture to see all the pics from our Sun-n-Fun Trip
We headed home Sunday morning and we stopped at Moultrie for fuel. We got the courtesy car to go find lunch. We were given a tip for a good family style buffet, so we decided to give it a try. That turned out to be a great choice. Market Barbecue - Great place to eat if your passing through Moultrie when they are open.
Apr 23, 2022 - I delivered my plane to Evoke Aviation Design in Gadsen, AL to have the wings painted. My buddy Danny Powell picked me up in his new classic 1956 Cessna 172.
May, 2022
Here are the pics from Evoke Aviation's progress below, metal prep work, masking and paint complete. May 13 - Plane is finished and ready to be picked up! Hoping to go get it by May 21.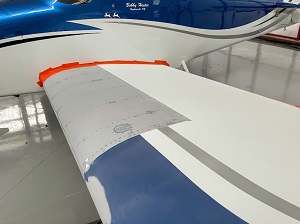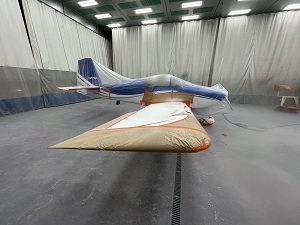 Got the plane home May 21. I met a new pilot at the airport one day and he was very interested in the RV so a few weeks later I texted him to see if he'd like to get the Top Gun - RV Experience, well the picture says it all :-)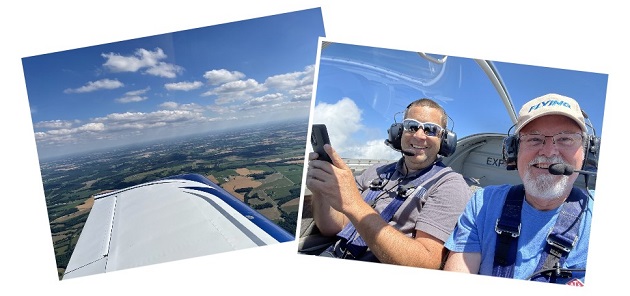 Jun, 2022
We got the wing walk material and Marsha and I installed it on the wings.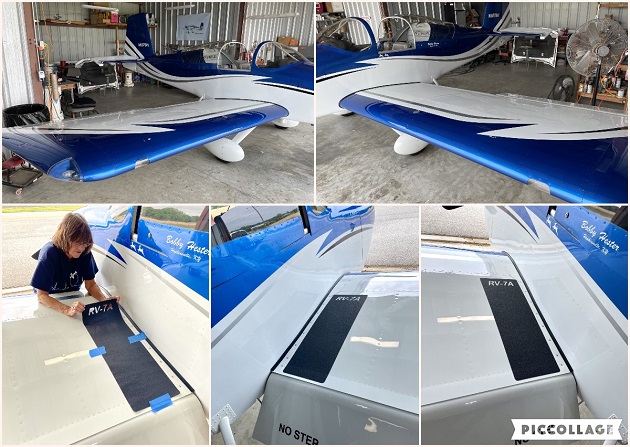 Jun. 18th flew over to Mayfield, KY for Breakfast, EAA chapter 807 has a really good Breakfast once a month.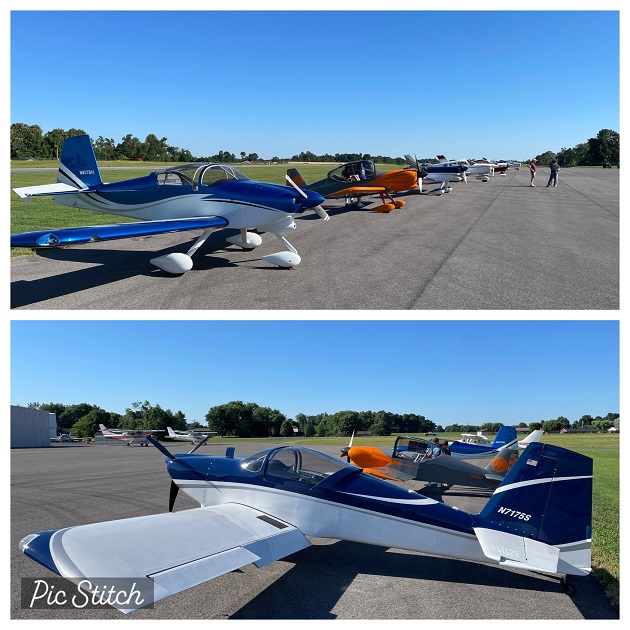 Jul, 2022
Marsha and I flew to my home town, Bowling Green, OH. My old elementary school was having an open house and it may not be around much longer. I got a hold of an old classmate and his sister and we met them there. We visited a lot of places that I remembered from around town before going to the school open house. I love visiting that town and recalling old memories.

CLICK ON ABOVE PICTURES TO SEE ALL THE PICTURES FROM THIS TRIP
A buddy from work asked if I would give his son a ride for his birthday. Weather was good and I told him no problem. His son loved it. I let him have the controls and he flew us around town a few times he held altitude and did turns like he already had training. He did a great job!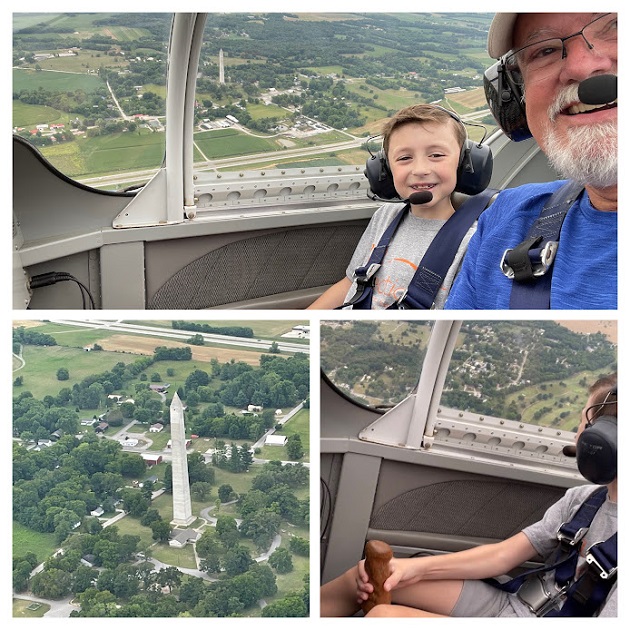 Aug, 2022
I flew to Gallatin, TN for breakfast. They were collecting supplies for flood victims in eastern Kentucky and were going to have volunteers fly them to Julian Corral Airport in Jackson, KY. I was free so I volunteered and delivered all the supplies that I could fit in my plane. I was one of the first planes to take off but there were plenty that would be coming later in the day.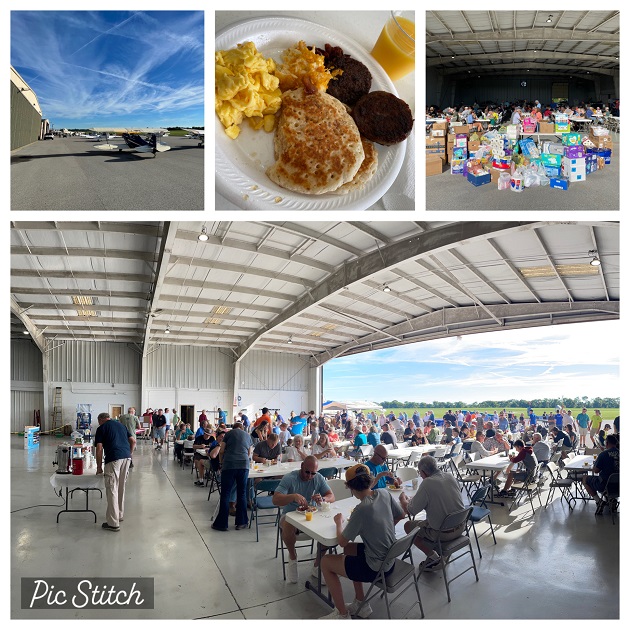 Marsha and I had been wanting to check out the Holocaust museum in Terre Haute, IN some some time. We saw a documentary on TV about a neat feature that they have there. It is a theater that has a hologram type way of asking a Holocaust survivor questions about their life. So we flew up to the Terre Haute Regional airport and used their courtesy car to go over to the museum. When you arrive you have the choice to have a guided tour or you you can walk through on your own. their was a small charge to enter but the guided tour was no additional cost and we highly recommend doing that. Our guide was very knowledgeable on the Holocaust. We learned a lot. At the end of the tour is when you enter the theater and get to hear stories from different survivors and then your able to ask them questions and they answer your questions. That was very neat.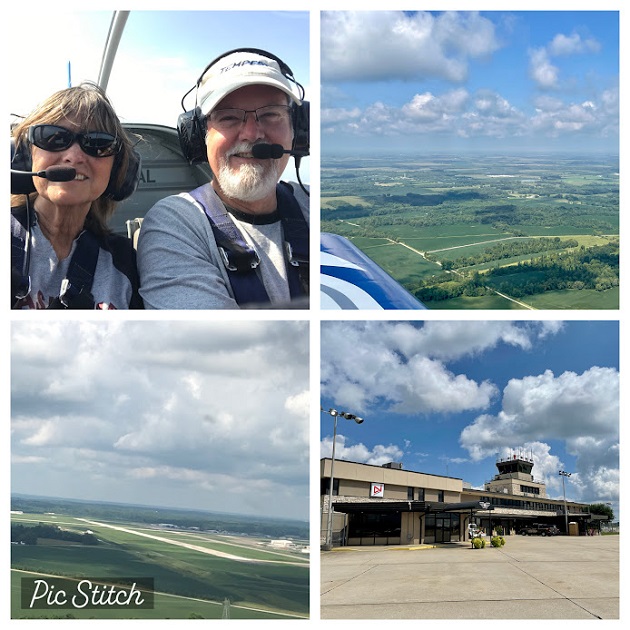 Sept, 2022
Wright brothers National Memorial, I didn't fly there but I did get to visit it while I was on a work trip. Very interesting and well worth visiting if you can. I took a bunch of pictures and if you click on the ones below you can view my Google Photos album. Some of the first pictures are from The Elizabethan Garden at Ft. Raleigh.
Oct, 2022
........