Bobby Hester came down to KLUG and balanced my prop after I re-clocked it and got it down to 0.03 ips...it's smooth as butter now...I recommend everybody getting it done... Thanks Bobby!!... Mike Kellems RV3 N74TX - Lewisburg, TN

Thanks again for balancing the prop on my RV6. I have always wanted to have a prop dynamically balanced just to see what kind of difference it made. I could not be happier. The run up is so smooth now. The cowling does not shake like it did before. What a difference! The power comes up so smoothly now it's amazing. I didn't think it was very bad before but it so much quieter and smoother now. The power seems to come up faster and smoother on take off and I believe I see 30-40 more rpms. The closest analogy I can think of is putting new tires on your car. Over time you get use to the not so smooth ride but as soon as you install new balanced tires the ride is amazing. It is like getting a new car. My RV feels like a different plane. Your balancing service is worth every penny just for the increased comfort. Mike Norton RV6 N249M - Rineyville, KY
On the initial run up we found that Mike's plane had a 0.42 ips vibration reading. I made the first weight correction and got it down to 0.33 ips. After the second weight correction, I got it down to 0.04 ips, and we were done! While we were doing the run ups we had two people holding the tail. After each weight correction they both said that they could tell that there was less vibration as did Mike while sitting in the plane.
I flew my RV-3 today for the first time since your prop balancing on Saturday. I am very happy to report that there is a noticeable change in the engine's smoothness and audible harmonics. I am very impressed with the changes. Thank you for ALL your wonderful work!!! Charles Brietigam RV3 - Louisville, KY
I have to say the dynamic balance made a (measurable) BIG difference. En route to DLZ prior to balancing our prop/engine, my state-of-the- art vibration instrument (piece of safety wire clamped to the instrument panel) measured 5 to 6/32" vibes at 8500 ft, 2350 rpm. After balance adjustment, I measured 1 to 2/32" at 7500 ft, 2350 rpm. I also checked at 2400 rpm and the reading was 2/32" vibes. Even at 2500 rpm the reading wasn't much worse than 2/32". Previously on other flights I remember cruising at 5500 ft, and 2400 to 2450 showed 3/8" yes 12/32". Needless to say I haven't cruised above 2350 rpm since this new prop was installed last summer. Thank you. Brad&Carol DeRubba N522BC - Niles, OH
Well gang if you haven't got your prop balanced I suggest you reconsider. Bobby Hester did a great job on my prop as I could feel the difference even while he was making adjustments on the ground! I ended up at .07 imbalance which is about as good as it gets and the flight back to 10G was smoother than a politician's last lie! Thanks Bobby for your time and effort.
Tom & Cathy Ervin - Ohio
My 4 was noticeably smoother on the flight home. Thanks for accommodating my schedule - time and $ well spent. Flint Brady RV-4 N954RV - Mt. Royal Airpark - Crescent City, FL
Flint's plane started out at 0.49 and it took me a while but I got it down to 0.07
Today I did a prop balance for a buddy who has a RV7A with a Mazda Rotary engine. We started out with 0.40 ips and I got it down to 0.06 ips. His engine has a reduction gear so his engine RPM read out is about 5800 but his prop RPM was about 2100.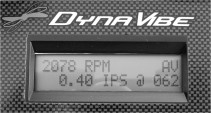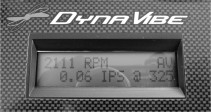 I flew Sunday, there is a tremendous difference. I have been doing alot of reading on the pros and cons of Dynamic balancing and since you've done my aircraft I cannot think of one con. It has reduced my airframe vibrations significantly and as far as I am concerned extended the life of my aircraft, thanks again and hope to see ya at some fly-ins.
Samuel Hodges RV7A N462WP - Paducah, KY
We are very happy with the fine prop balancing job you did for us using your Dyna Vibe equipment. We no longer have vibrating door handles and there is much less cockpit noise during taxi, run up, climb out and cruise. This made a big difference for our simple painted interior, even with Lightspeed Zulu ANR's. Our IPS reading started at .24 with a factory new IO-540-D4A5 engine/Hartzell CS BA prop combo. We are now at .01! We will highly recommend you. Thank you! Wayne & Darlene Gillispie N715WD RV-10 - Portsmouth, OH
Today I did a prop balance for a CFI that saw my website and wanted to get rid of some vibration in his newly purchased Piper. Justin Kunz flew over from Carbondale, IL. His plane started out at 0.62 ips and when we were done it was at 0.07 ips. Here is what he texted me on his way home:
Can definitly tell the differance, I can read my Garmin 396 with ease now on the yoke! No more oscillation!
Today I did a prop balance for a Buddy that has a differant plane every other year. I think I've done about four differant Prop Balances for him. This time it was for his RV4. It started out at 0.63 ips and when we were done it was at 0.04 ips Mike Kellems - Lewisburg, TN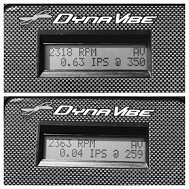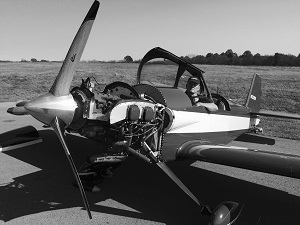 Today I did a prop balance for a RV8 flyer from Collierville, TN. Here is what he posted on Vans AirForce website:
Folks, if you haven't had your prop balanced, you need to. I flew up to see Bobby this morning and when I left he had it perfect. I mean 0.0 IPS - It took 4 quick runs and when we did the last run, I could tell a big difference before I even asked him how it went. He smiled and said zero... On the way back home, it was smooth as butter. Well worth the time and money! Mark Dickens RV8 - Collierville, TN (KFYE)