My 2021 Flying Adventures
2021 - Hoping to make it to Sun N Fun at least, kind of thinking about picking up a Bose Headset while there :-)
Jan 2021
Jan. 1st it was 61 degrees perfect day to clean and get the 2020 grease out and put the 2021 grease in the main wheel bearing. replaced the brake pads also. I had to heat up the new brakes, so I had to fly to cool them off :-)
Jan 3rd the Mayfield, KY EAA chapter was having a meeting so I contacted a buddy that has started working at the airport recently to see if he wanted to go.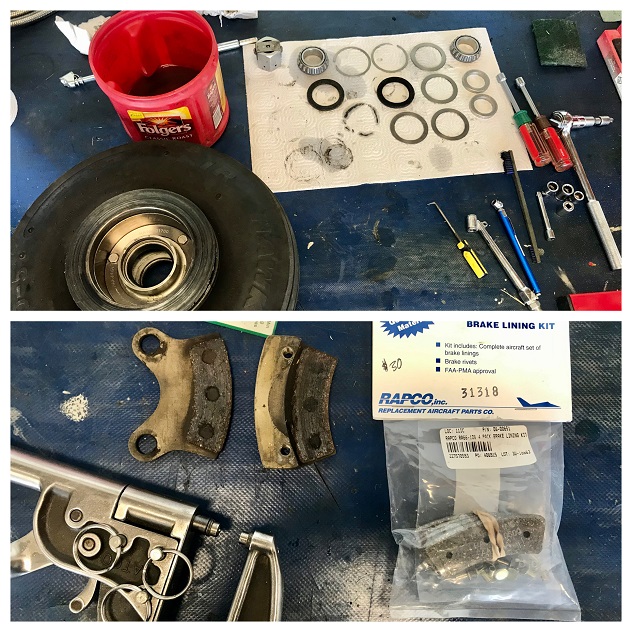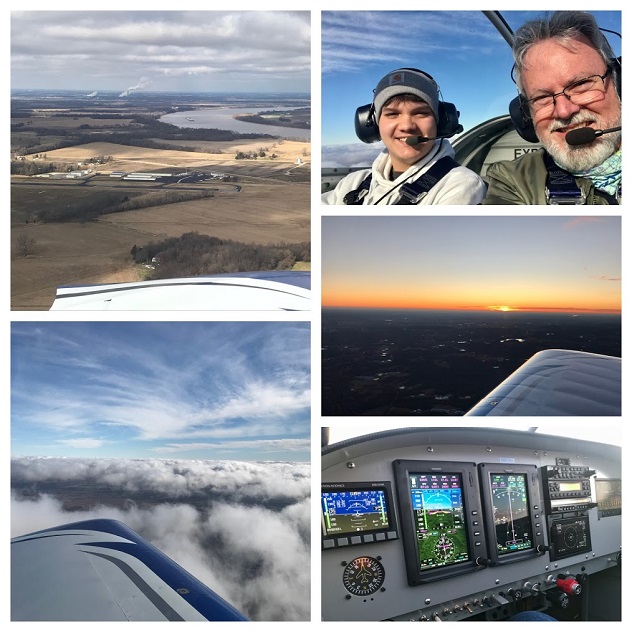 Jan. 16th The EAA chapter at Mayfield, KY had their fly-in breakfast, the weather wasn't great but it was doable. Cold and a little snowy and low clouds. My buddy Tyler rented the 172 with a couple of his friends and we flew together within site of each other there. We had to divert northwest toward Paducah to get around some weather that pretty much went all the way to the ground over the lakes. Mayfield has about one of the breakfast's (food wise) going right now. Eggs, bacon, sausage, country sausage, country ham, hash brown casserole, pancakes and donuts. They didn't have many fly in I think it was only 2 or 3, but they usually have quite a few locals show up. They presented a young man Ethan O'Neal with a $10,000 Ray Aviation Scholarship, before leaving I took a young eagle up for his first flight in a small plane.
Just a few pictures from an evening flight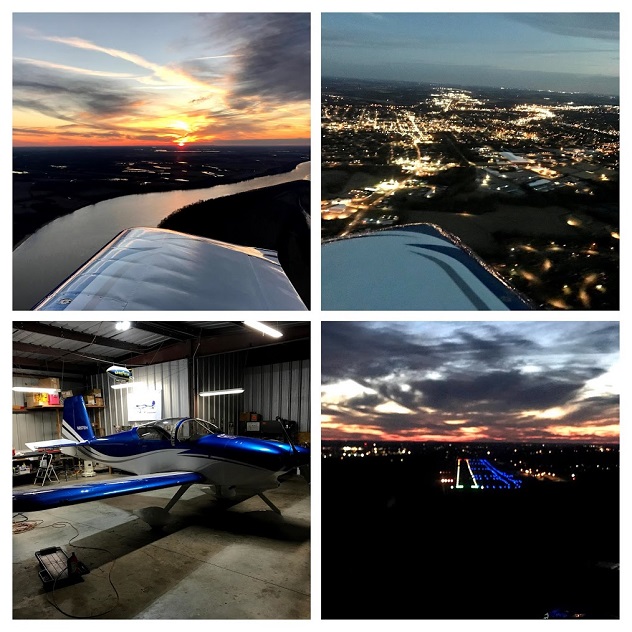 Jan. 23rd Somerset, KY had a fly-in breakfast, it was cold but a very nice clear day. They are in the eastern time zone and I'm in the central so that means you got to get up early to go. I had oil sump heater plugged in and the timer was set to come on at 4am. I was at the airport a little before 7 and in the air by 7:15 it was slightly under an hour flight. I checked wind and found at 3500 there was a good head wind from the east which is odd for here, at 7500 I would actually have a little bit of a quartering tail wind from the northwest. That worked out pretty good I had a 180mph TAS and 193mph ground speed. It was 30° at altitude and in the mid to high 20's on the ground As I was arriving my screen was lit up with arriving traffic, I including me there was 9 of us approaching within about 30 mile from the airport. Breakfast (pancakes, bacon and sausage) was good and I counted about 18-19 planes while I was there. they did a pretty good job keeping the food coming but at this rate they are going to need another grill to handle the crowd.
On the way back I stopped by Glasgow, KY to visit another RV buddy and before leaving another RV flyer with a Honda engine stopped in. Good tail wind and after I left to head home you can see that everybody was flying lots of traffic on the screen.
Mar 2021
Well things turned for the worst at the end of this March for me. I returned from a work trip and decided to go fly after work. I decided to do a touch and go (not my airport) and I was high on base so I dumped my flap to come in steep. Runway was clear no other traffic. Normal approach, bottom of the flare and I catch a glimpse of deer on the RH side of the runway. I knew I was at the bottom of the flare and if I had given it full power to go around, I would have must likely still touched down and then been a foot or two off the ground when the deer hit me which would not have ended well. I decided to ride it out caught a glimpse of more deer off the LH side. I would guess that there was about six deer on each side of the runway. Sure enough two from the right side ran out in front of me. The first one hit the prop and was thrown into and over the LH wing and the second one hit the RH wing. The rpm never dropped and I continued with a normal landing. The prop was undamaged. The LH wing had a pretty good dent in the leading edge of the tank and a small dent in the outboard leading edge just pass the tank. The RH wing had a small dent right at the outboard end rib and the outboard leading edge skin. After looking everything over, this was all the damage to the plane. I decided that it was enough that would require an insurance claim, so I made the call.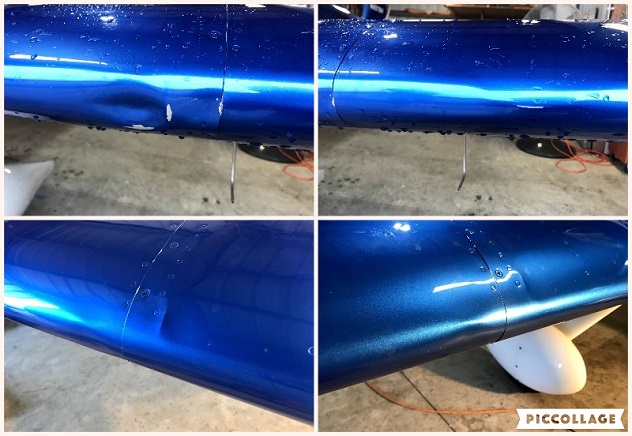 The next day I did some checks to see if I could find any more damage. First I did a prop inspection, I measured the prop track from one tip to the other. There was only a 1/32 inch difference. I did a dynamic prop balance check and found that it was only slightly differ from my last one. The next check was to remove the prop and check the run-out of the prop flange, max allowed was .005 of an inch, mine measured at the most .001 of an inch. My checks all checked out good.
Apr 2010
I got all the information that they required emailed in. They told me that since there was a prop strike, it would require an engine tear down for a prop strike inspection and that the prop would need to be sent in for an overhaul also. They would need a list of parts required to repair the plane and they would need me to estimate the amount of labor time wise to do the repair. I made up the parts list to build two new tanks and I found my original build log of how long it took to do it the first time.

They gave me the name of an engine shop that they recommended and I had info about a prop shop that was the closest to me. This was all hard to comprehend at first but I decided that it was going to haft to be done and the quicker the better. The insurance company said that they would pay me the labor to removed/reinstall the prop and engine and for the parts and labor to repair the plane. I got the prop off and sent to the prop shop in Georgia. I got the engine off and shipped to the engine shop up near Chicago. I got the parts from Vans Aircraft to start working on the tanks. I got the prop back in about a week. I was quoted 8 weeks for the engine overhaul.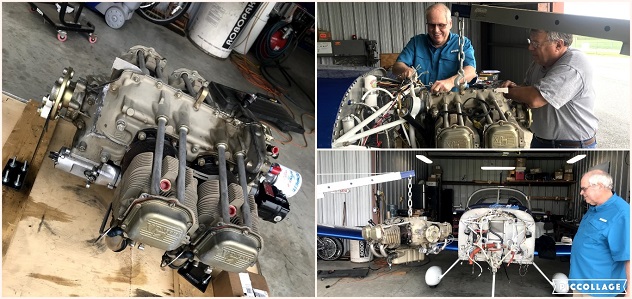 Well I didn't get to go to Sun-n-Fun in Florida this year but I did see a new headset from an advertisement on Facebook, that was being introduced at SnF. I read all about it and it sounded exactly what I've been wanting to get. It had all the features of the Bose headset but in a headset more like the Peltors, that I have always used. I got a hold of my buddy that I knew was at SnF and asked him if he could get to the booth that was selling them and check them out for me. He did and I bought one to give it a try. It showed up a couple days later and they look great! Hope to get to try them out soon.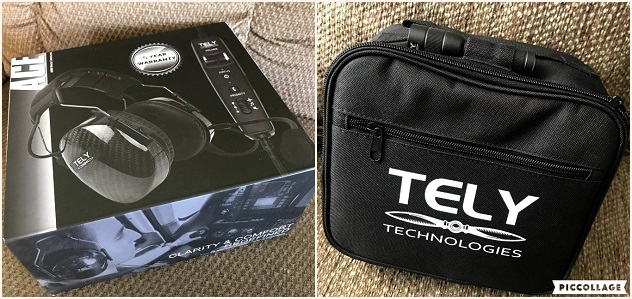 May - Jul 2010
I built both new tanks, I used capacitive plates just like my originals, and worked the dents out of the outboard leading edges. Installed the tanks. 150 hrs. of my labor and 15 hrs. of labor from a helper and they are all done except for paint. I hadn't heard from the engine shop, it has been 3 months now. I called and was told that he could not get cylinders, because of a shortage caused by the COVID-19 pandemic.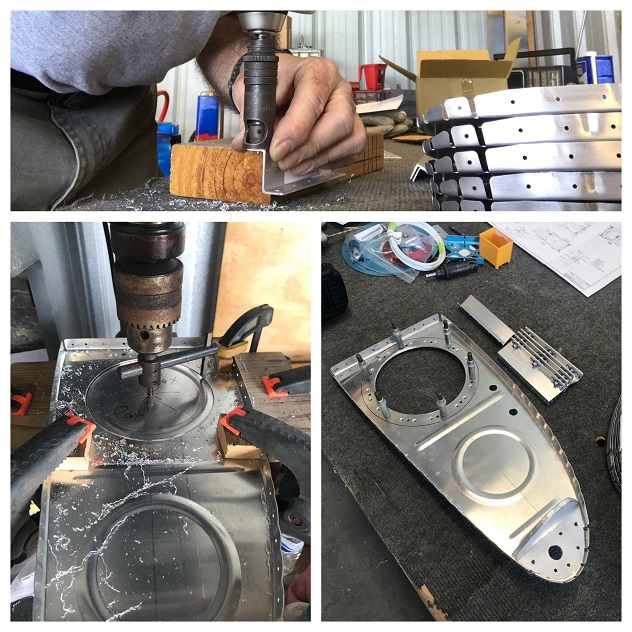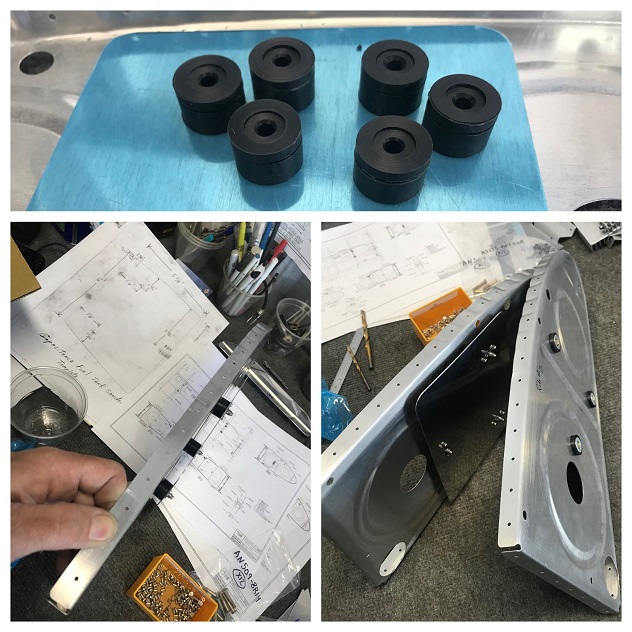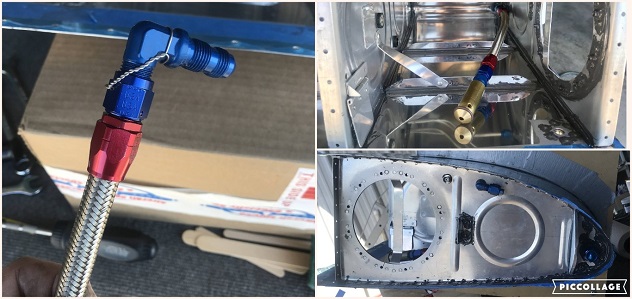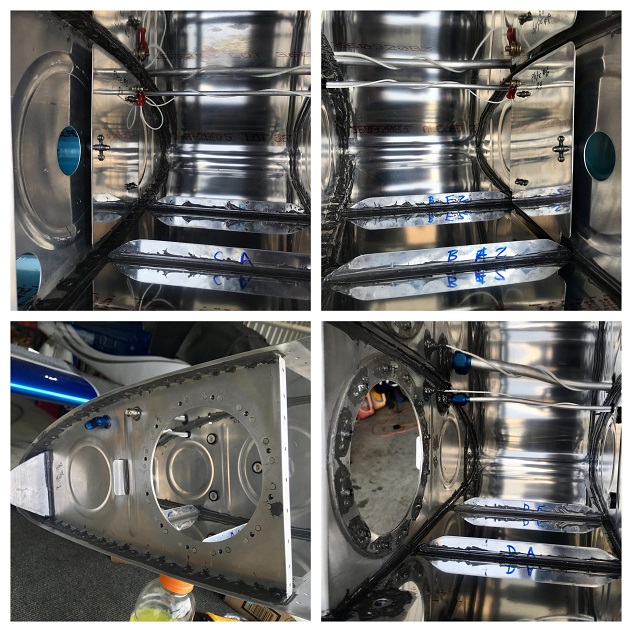 Aug 2021
I've had a crack in my RH step for quite a while now and decided it was time to take care of it. Removed it and replaced it with a new and improved version that should not crack. On to the next project that I've been putting off. My pilot side RH brake cylinder seems to have seeped from the beginning. I removed it, took it apart and replaced parts in it with a rebuild kit. Bled the brakes and hopefully that will cure the seeping.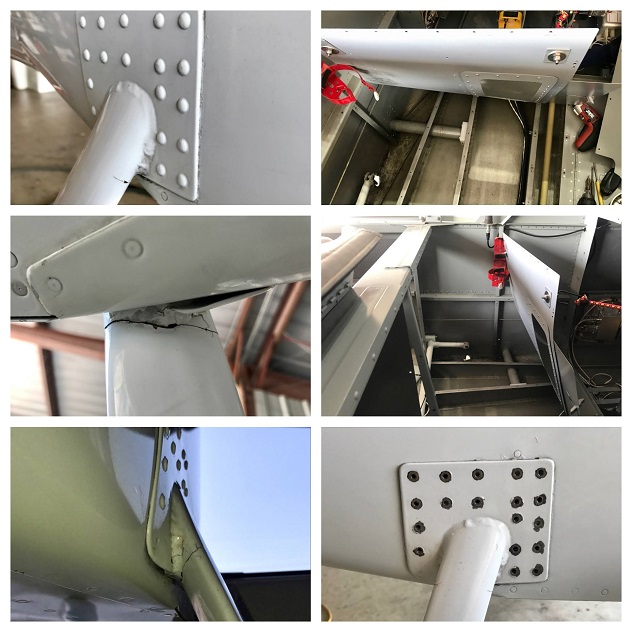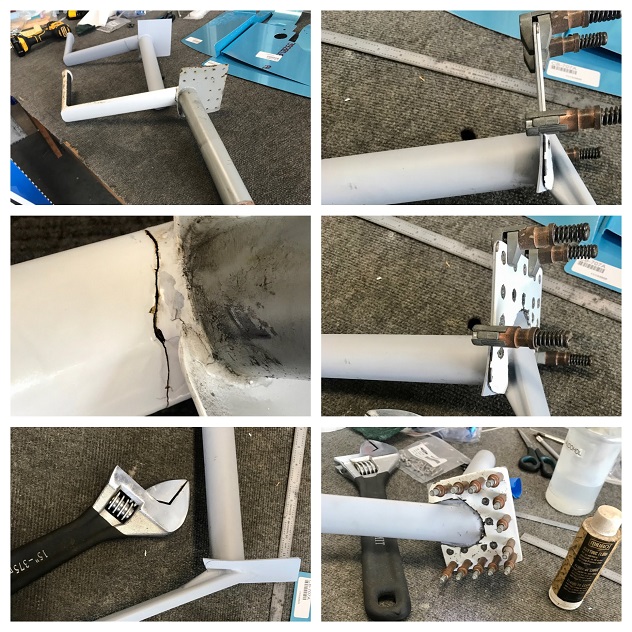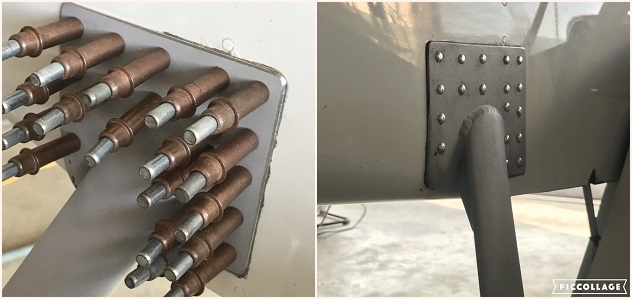 Still no word from the Engine Shop, so I moved on to yet another project, My landing lights seem like they are too far back in the opening in the wings. I made new brackets that would move them about 2 inches closer to the leading edge and I hope that will make them project better.
Marsha and I went to Chicago to visit some of Marsha's family, while we were there I took a little trip over to see my Engine Shop guy, 4 months now. I got to see his operations and my engine apart on a cart awaiting cylinders. At least I got to get a good look of what the inside parts looked like. The cam shaft had a little galling on one of the lobes.
Sep 2021
I cleaned out my oil cooler by soaking it in kerosene multiple times, until it was clean, to get all the old oil out of it. I built up a new spinner back plate, the old one was bent up a little, might have happened when I removed it. About the last thing that I can work on is hooking my Garmin G3X system audio alerts up to my audio panel. So I took the panel apart. I had already hooked up the wire on the G3X side awhile back so I just had to hook it up to the audio panel side. Two wires needed two pins and then inserted into one of the connectors on the back of the tray. Not too hard, and I even got a little help from my buddy David.

5 months waiting on the engine overhaul, I sent an email to the engine shop and I got a reply back the next day. Sept 27th, they told me the cylinders and other parts are in the mail headed their way and they would check on the status of everything and update me. When, we will see.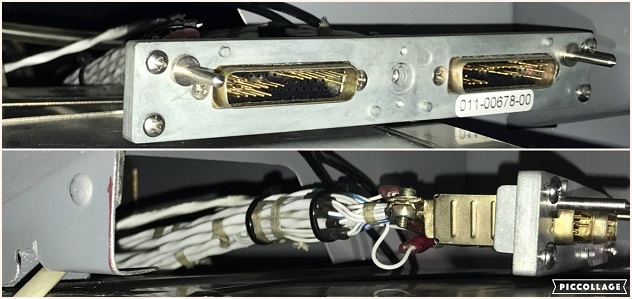 Oct 2021
Well never heard back from the engine shop so I contacted the shop and was told that they have most everything and should have it done in 2 more week. I contacted them again on Oct. 18th to see if my engine would still be ready to ship by the end of the week and was told that a few more parts where going to arrive on the 21st and that it would defiantly be completely built by the 27th and then 2 days in the Dyno booth, so done by the 29th and ready to be crated for shipment. It has now been 6 months. I've asked for pictures and have not received any. Oct 29th I received a text from the Eng. Shop explaining that another part needed for the build was delayed but the build should happen next week.
Nov 2021
Nov 2nd - I finally received pictures of my engine being put together from the Engine Shop today. I might actually get to fly my plane again before the end of the year!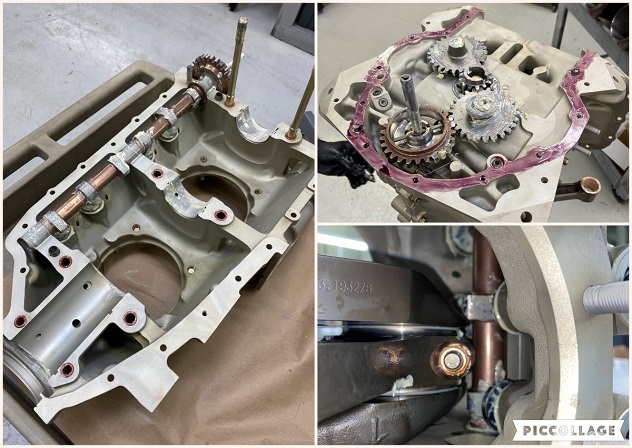 Nov 5th - I was told today that my engine should ship Tuesday and arrive to me Thursday. We shall see.
Nov 11th - I should have known that was too good to be true. It was picked up on Tuesday but the paperwork says it won't arrive until Friday. I had Thursday off for Veterans Day and will have to work Friday. One week short of 7 months for a 2 month overhaul.

Well it finally arrived Friday Nov.12th and I got to work on it on and off until Sat. Nov. 27th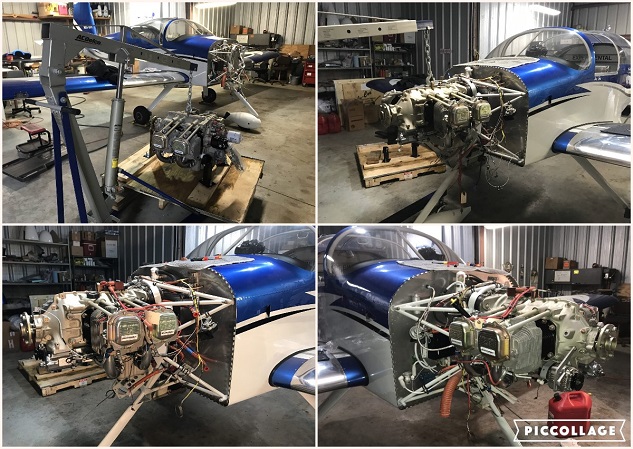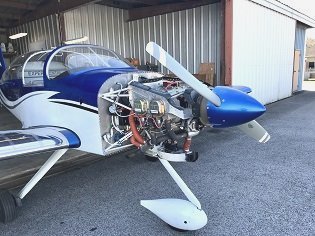 Nov. 27th - I finally got to start it. It ran great! The next day I flew it for the first hour of the break in. I've flown it almost daily ever since. I found out that if it's 50 degrees out side with my oil shutter completely closed I can only get the oil temp up to 175, so I need at least 55 degree outside, luckily this week it has been above that. I now have 8 hrs of the 10 hr break-in finished and the temps are looking great.