My Flying RV7A Page
Feb. 18, 2007
Well I finally did it! About 3pm today I got to fly my plane. It was great, it flew great, it performed great and everything seemed to work fine the first flight. Second flight the oil temp probe stopped working and I played with the nav side of the SL30 without much luck, but I need to read the book to find out exactly how it works. I'm off tomorrow and will fly some more.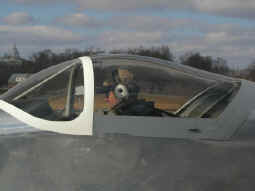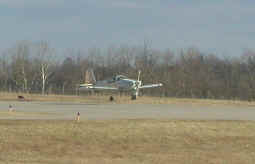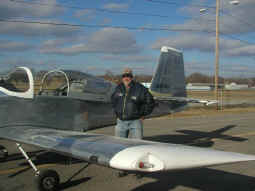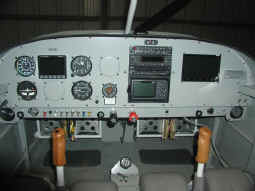 Here is a link to my First Flight Video

March 8, 2007
It looks like the only problem that I have had is that oil temp probe. I replaced it and now it is working great. With the cool temps right now I have had to block off most of my oil cooler to get the oil temps up between 180-200. I ordered a oil cooler vent from Vans and hope to install it this weekend. I put some alum. tape on the front of the #1 and #2 cylinders to help equal out the cylinder temps, I still need to add a little. I have about 12.8 hrs on the engine now and will be doing the first oil change this weekend.
March 11, 2007
I ended up working Saturday and I only got a few hour to work on the plane Sunday. I flew for about 30 minutes then I drained the oil out of the filter and out of the sump. I purchased a filter drain kit and oil filter cutter from Avery. The filter drain kit comes with a punch that you use to punch a hole in the top of the oil filter and then attach a hose to it rotate the filter and drain the oil out without a mess. After draining the oil from the sump I installed a quick change drain plug that I purchased from Vans. I cut the filter and laid it out and inspected it for metal. I did find some very small specks and one small sliver. This was about what you would expect to find during a new engine break-in. I still need to inspect the oil screen and then fill with new oil.
March 18, 2007
Some people on one of the RV lists wanted to see some pictures of how I installed my GPS antenna. The end on the wire is pretty big so I made the hole big enough to feed it thru. I used a round black plug from Lowes to plug the hole. I cut a slit in it to feed the wire through and I installed a little grommet around the wire. I used velcro to attach the antenna to the glaresheild.
March 24, 2007
I have been flying in mostly with the outside temps between 45-70 and I've had about 80% of my oil cooler blocked off with alum. tape. Today I finished installing Van's oil cooler vent. After I installed it I went flying, the outside temp was between 82-84. I had the control knob about 1/2 inch out and my oil temp was about 190. I'm going to open it all the way tomorrow to see how cool it will go wide open. I'm thinking that I may have to take it off when the outside temps get in the high 90's and stay there. It will be easy to remove and install the way that I installed it.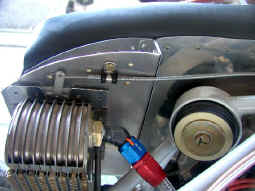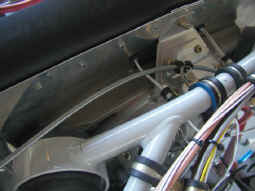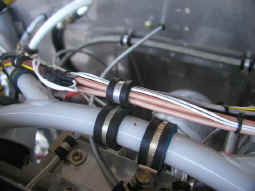 March 25, 2007
I checked my oil temps today wide open and outside air temp was about 85. I saw the oil temp get up to 190.
March 31, 2007
Today I decided to make a bracket to mount my GPS directly in front of me and tilted up to me. The panel looks great with the Airgizmo mount but I could not see it as while as I'd like. This new location isn't as pretty but I can see it a lot better and I can even read the small print. I still need to route the cables. I'll bring them thru holes directly behind the mount.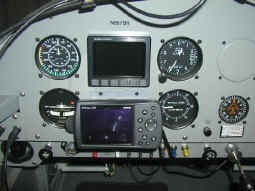 Here is a picture that a fellow flyer took of me one day we were flying.
May 19, 2007
I finished my 40 hr phase I today. I took Richard and Ken two buddies that have helped me along the way. I then took Lexie, my granddaughter. She has been waiting a long time to fly in our plane. I've got to work on a better setup for her to be able to see out. When I turned she could see, the first time I turned she said it's beautiful. I was kind of shocked to hear her say that, she is only 4 yrs old. Later she said that It was funner than she thought it would be. I have decided to take my oil cooler vent off for the hot summer months. I'll put it back on about October.
May 26, 2007
Today I decided to make my first long cross country. Richard meet me at the airport and I pulled up Shelbyville, TN on the GPS. We took off and Richard took the controls to continue the climb while I contacted Campbell approach and got Flight following to destination. This is the way to fly. We climbed to 7,500 feet after a while were handed off to Nashville Approach. A few minutes later they called us to tell us that we had traffic at 10 o'clock a 747 that would be turning toward us and flying below us at 7,000 feet. Now that was cool! Sure enough he turn directly toward us and passed a little to the east of us and about 500 feet below us. I wish I had my camera out, but it was in the back. We got to Shelbyville at the very end of the breakfast, need to get there between 8 and 9 next time. We had a late start and did not get there until 9:40. We ate a little bit and then talked to the RV guys. I called Dan Cunningham in Decatur, AL and he said they were planning to fly to Pell City for lunch, so we decided meet up with them and then fly to Pell City. After we left Pell City we flew back to Decatur I was hoping to see Garrett Smith and his Dad they were there earlier but we did not have time to stop. When we got there they had left, so we filled our water bottles and headed off back to Hopkinsville. Richard started our climb and I contacted Huntsville Approach and got flight following to destination. We went up to 10,500 to clear the clouds. We made it home in 1 hour. Here are a few pictures that we took.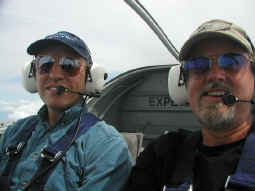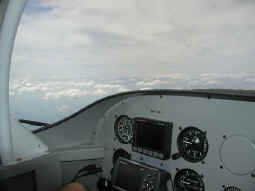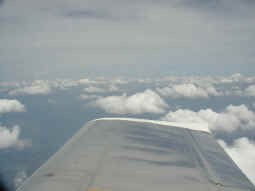 July 21, 2007
Today I flew to the Owensboro's Fly-in Breakfast (3rd Saturday every month), there is a fly-in breakfast, within a 45 min flight, every Saturday around here. Anyone that would like to split the fuel and fly with me, just let me know. Before I went I loaded the new version (3.0.0) of the Dynon software. They have added alot of new features. Here are a few pictures. The first two are before and after shots of the main screen. The third picture is of the CDI screen that works if you have your GPS tied into the Dynon. One thing that is missing is wind direction and speed. I plan on adding the OAT probe and after I do that info will be available. Click on the pictures to enlarge.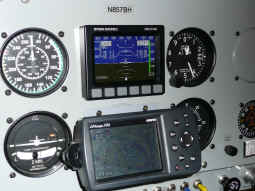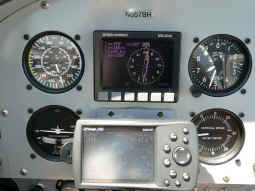 After leaving the breakfast I flew over to Mayfield, KY and Paris, TN at Paris I saw a flyer on the bulletin board about a restaurant on the field at Dyersburg, TN. Off to Dyersburg for lunch :-)
The restaurant is Nellie's Hanger, it is open M-F 6am-2pm, Friday night 5pm-9pm, Saturday 6am-1pm. It is a great place to eat if your flying thru that area or just looking for a place to fly to.
Nov. 3, 2007
Today I flew up to Sporty's Pilot Shop. 210 Statue miles 1.6 hrs there and 1.6 hrs back. The Ohio Valley RVators were meeting there and I haven't met some of the guys that I've swapped emails with. It was a neat place to visit. Every Saturday they cook Hot dogs and Brats and pilots and customers eat for free! I invited a buddy of mine (Austin) to fly up with me. We cruised up at 9500 and back at 4500. Here are some of the pictures I took.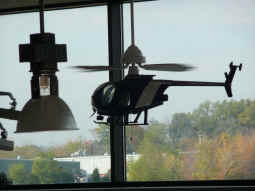 Here is a video that I made with my nifty little digital camera, it's a Panasonic Lumix DMC-TZ3 7.3 mega pixel 10x zoom. It saves the video files in QuickTime format but I finally found a good converter program that keeps the good quality: http://www.imtoo.com/ I'm just using the free version right now. I'll be playing around with more videos in the future :-)
Finally getting around to working on the wheel pants and leg fairings. I worked on the nose wheel pant first, I got the wheel pant almost done when Van's decided to change the fork and leg. I've decide to wait on finishing it until I change the fork and leg mid Jan.. The next thing I started was the main gear leg fairings. I've got the hinges in them and the top fingers formed to the leg. I need to reinforce the fingers next.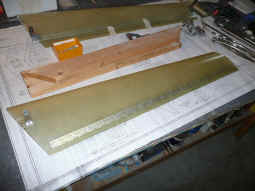 Dec. 22, 2007
I went to the Shelbyville, TN flyin breakfast today. I invited a buddy that I met at a flyin a few weeks ago, to go along. He rents to fly now, but after that trip he might become a builder in the future, I warned him :-) I met someone in Shelbyville that has starting selling some items that he makes. He showed me one item that he just finished. I told him that if he wanted, I had my digital camera in the plane and could take a few pictures and a video clip of it. I put it all together for him and uploaded it to YouTube. He said he has just about got his web site update ready to publish. Here is the video, the ordering info at the end of it.


Goto My 2008 Flying Adventures Page