My 2010 Flying Adventures
Jan. 10, 2010
I decided to replace my nose wheel tire and tube and while I was at it I installed a Matco Axle Assembly.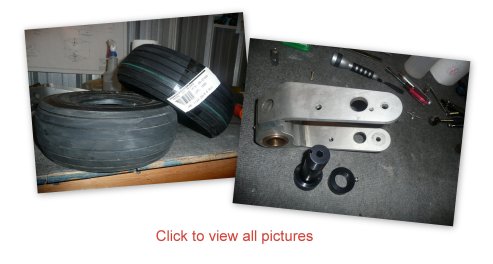 Jan. 18, 2010
I flew to Sikeston, MO to eat at Lambert's today. My buddy Mac Brame flew over with his wife in his CTS Light Sport. I took a buddy of his with me. If you have never been to Lambert's it's one of those places that you just have to go to. More food than you'll ever eat!

Click on the photo's to see the rest of them
Feb. 25, 2010
Working on my Main Wheel Pants - Here are the pictures.

Click picture to see more pics
Feb. 27, 2010
Shelbyville Fly-In Breakfast 3rd Sat. every month. Just a small crowd.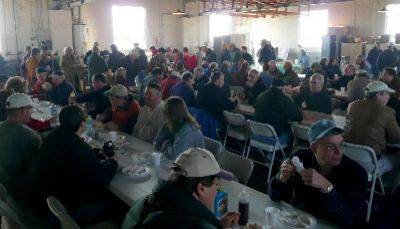 Click on picture to see all of them
March 6, 2010
Tommy Walker said he was going to fly to Houston Co. breakfast, We started spreading the word over the internet and we ended up with quite a crowd there! I counted 27 airplanes and I might have missed a few. It was really nice getting to meet everyone! If you've never been there, Houston Co. (M93) has a Restaurant-Hotel (SouthernAire) just up the hill from the airport. They serve breakfast all day and lunch and dinner also. They are going to have their Official 2nd Annual Fly-In Breakfast April 3rd, 2010 7am-12, weather date is May 1st. They will be serving a breakfast buffet that day. We need to see if we can fit 50 airplanes allow the side of the runway.

Click on picture to see all of them
April 11, 2010
Today I met up with the Evansville, IN boys, EAA 21 and flew up to Purdue University Airport, Lafayette, IN for a visit to the Swift Fuel (100LL replacement fuel) Research Lab. Neat Stuff. Here are the pictures with remarks. I think there were about 16-18 of us. 247 statue miles each way, 1.5 hrs each way. Sure beats flying around the pattern!
http://picasaweb.google.com/bobbyhesterKY/SwiftFuel#
April 20, 2010
Today I was in Colorado Springs, CO with work, the local EAA chapter 72 was having a meeting and the guest speaker was Millicent Young one of the 300 Women Airforce Service Pilots (WASP) honored with the Congressional Gold Medal a ceremony in Washington D.C. on March 10, 2010 for service as a pilot during World War II. Read all about it here:
http://home.newwavecomm.net/bobbyhester/FamousPeople.htm
May 15&16, 2010
Dynamic Prop Balancing Weekend at KDLZ
Saturday and Sunday we (the Ohio Valley RVators) had a prop balancing weekend at Delaware, OH. I balanced 8 props, actually 7, one was so good it didn't need anything done to it. We started talking about doing this last fall but the weather had started getting cold, so we decided to post pone it until spring. The weather there was great but unfortunately it wasn't good between home and there so I had to drive up rather then fly. We had a good time.

See all the pictures here:
http://picasaweb.google.com/bobbyhesterKY/PropWeekend#
May 29&30, 2010
I finally got my wife interested in flying somewhere for the weekend. We were invited to attend a family & friends get-together in Jasper, AL. This was about an hour and 15 minute flight each way. As would have it this time of year the weather did not want to cooperate. I planned to leave Sat. mourning but after checking the weather I decided not to go. I went to a couple local fly-ins and then came back home and did some work outside the house. When I came back thru the house about 5pm my wife was checking the weather. Her brother and his wife was going to be at the event and she wanted to surprise them if we could do it safely. We had Monday as an extra day in case we had to wait out weather for the return trip, we also had her brother there and he would be coming thru our town on his way home, so if things got really bad we could leave the plane and come back for it later. So we have the return trip covered. Looking at the weather we decided that it looked doable if we left now. We packed a small bag, took the grandchildren home and was wheels up by 6:05pm. We got flight following to destination and got good help flying around a storm west of Nashville and directly in our direct path. It was smooth sailing the rest of the way at 8500 ft. When we arrived at Jasper there was a squall line about 10 miles south of the airport and headed our way. We were meeting a nephew of my wife's sister-in-law, Dewayne. Dewayne help me put the plane in the big hanger. We had a great stay and visit. We surprised Marsha's brother and sister-in-law and spent the day at the get-together while it rained on and off all day. We got back to Dewayne's place about 5pm and checked the weather, it looked like our best chance to leave was now. Off we went to the airport and by 6pm we were wheels up for home. We climbed up to about 7500 ft and had a nice ride home with a rainbow to our east almost all the way. Near home there was a dark wall to the east and a lighter wall to the west, right in the middle it was raining but we could see through it, shoot through the middle and we were home! Nice trip and some new friends.
June 5, 2010
Dynamic Prop Balancing Saturday at KMOR
Today we had a Dynamic Prop Balancing Saturday at KMOR - Morristown, TN
I took off form KHVC at 5:30am CDT and arrive at KMOR at 8am EDT and started balancing planes. By 2:30 EDT I was done and back in the air for home.
I worked continuously (except for about 20 mins to eat a hamburger) to complete 6 aircraft. 5 RV's and a Star Duster. It was a long hot day but I'm sure there's going to be some smooth rides in that part of TN now!

See all the pictures here:
http://picasaweb.google.com/bobbyhesterKY/PropBalKMOR#
July 5, 2010
Some of my wife's family was here for the July 4th weekend. It was my job to see that they got to have some fun. Well since I am a pilot and have a plane :-)
July 10, 2010
After doing an oil change, I took the air filter off to clean it. I noticed that the plate the holds it on to the engine had a crack. I started looking for some aluminum that was thick enough to make a new. I came across the the original instrument panel that I did not use while building, it was exactly what I needed. A couple hours later and the new one was back on the plane.
Not a lot to report from July to Nov. so I decided to just add it on this page rather than start a new one.
Nov-Dec., 2010
I decided that I wanted to get my wheel pant to leg intersection fairings installed this winter. Before I took the main pants off for winter I had to get the intersection fairing fitted and clekoed in place. I am putting all the pictures in a Picasa web albem which you can get to by clicking on the link below the pictures.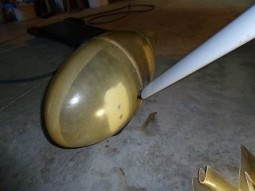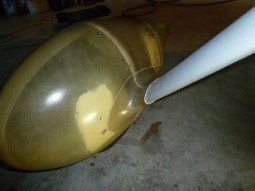 Looks easy enough!
https://picasaweb.google.com/bobbyhesterKY/PantFairings
Dec. 11, 2010
I hadn't flown to a breakfast in a while and decided to fly the Houston County-Mc Kinnon, TN to eat breakfast at the Southernair Restaurant, it's a great little place, park on the west end on the field and walk up the hill. The weather didn't look real good so I did some digging on the internet and it looked like I could get there and back but most likely with some rain. Rain would be ok if the ceiling and visibility stayed ok and it looked like it would. Light raining started about half way there. A good breakfast and joined in with the locals story telling. On the way back it was raining a little harder, but I could still see ok.