My 2015 Flying Adventures
2015 - Time to upgrade the Instrument Panel - I really like the way my panel looks but new technology allows better options.
Jan, 2015
Time to upgrade! As I complete more work on the panel upgrade, I'll be adding pictures to this web album, just click on it to view them: GarminG3X and adding comments to the pictures.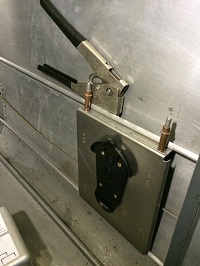 Click on the pictures above to see more pictures
I moved my ADS-B receiver from the glare shield to behind the baggage wall
I flew Marsha up to Kentland, IN so her sister could pick her up and take her on to Chicago. It was a 1 hr. and 40 min flight for us and about the same amount of time for her to drive. She showed up just before we landed. It was winter up there! From just north of Terry Haute, IN we could see that it had snowed. It was about 37 degrees when we took off from here and it dropped to about 34 until we started our decent and then it really dropped, it was 14 degrees in Kentland. Dropped her off and then back home for me. Fun trip and perfectly smooth all the way.
I had MLK day off from work and one of my granddaughter's (Lainey) wanted to fly somewhere to eat, so we flew to Sikeston, MO home of Lamberts Cafe. She had a very good time, I did too!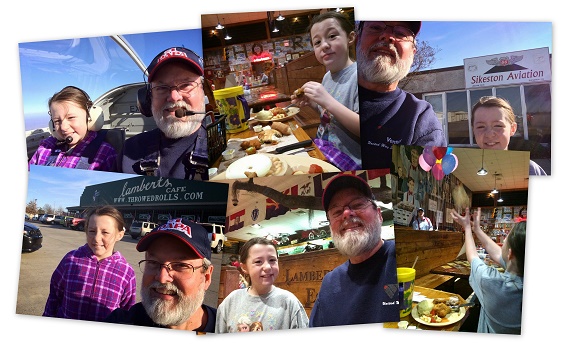 I got the magnetometer installed so everything from the cockpit back is complete for the panel upgrade. I got the old panel out before having to leave for 2 weeks with work. I plan to get with the install as soon as I get back. I'm planning to get the new screens in and working before tying in the comm and nav radio, I can do that at a later time, I just want to get the screens in and make sure they are working as they should. Here is a picture of the old panel and a picture of the panel removed. Hopefully by the end of next month I'll be able to post a picture of the new panel.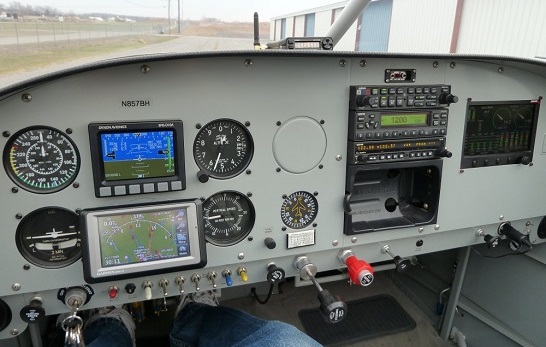 Feb, 2015
Wiring , wiring, and more wiring! It is unbelievable the amount of work that is involved to make all of this work. It's a lot of work but I enjoy it. As long as it all works when I'm done, I will have enjoyed it!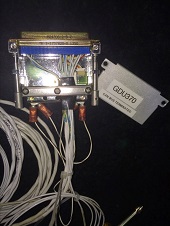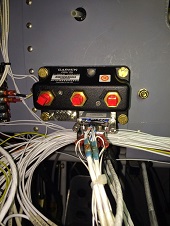 Mar. 2015
Got the temporary plastic panel installed. I'm using a Plexiglas panel to verify that the placement of everything is correct before cutting the real panel blank. I've got a little adjustments to make. I've got most of the calibrations done. but the rest require the aircraft to be running and we are getting snow again and it's suppose to be 3 to 6 inch by morning :-( I guess I'll take the plastic panel out and get measurements so I can start cutting the real panel.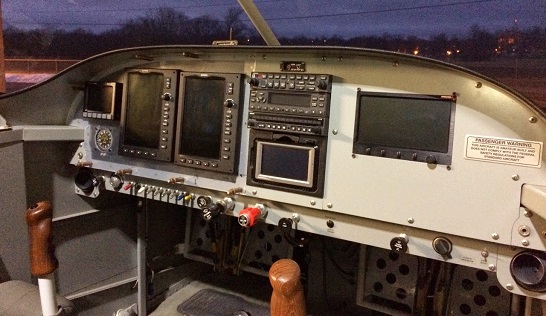 I thought I had a good looking panel before - but look at this sexy thing!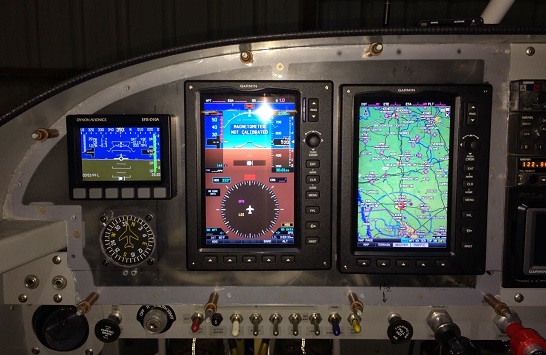 Click on this picture to see the rest of them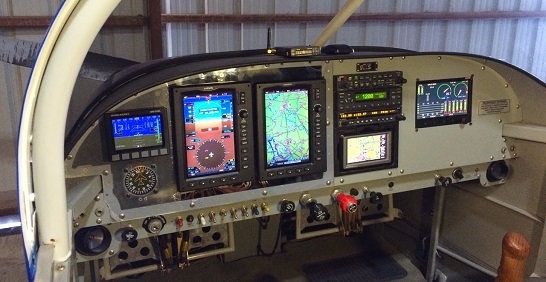 It's been rough trying to get this work done we have had two snow storms in March and it's hard to get the Hangar doors open. A snow shovel and crow bar is a must. I had to use the crow bar to breakup the ice so I could get the doors to roll on the tracks. I'm on the side of the hangars that doesn't get sun shine.

I decided it was time for a new battery, mine was 8 years old. While I was at it I replaced the battery and starter contactors.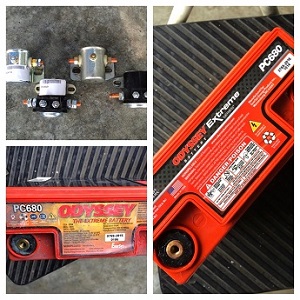 Apr. 2015
It is finally finished! Just in time for Sun-n-Fun.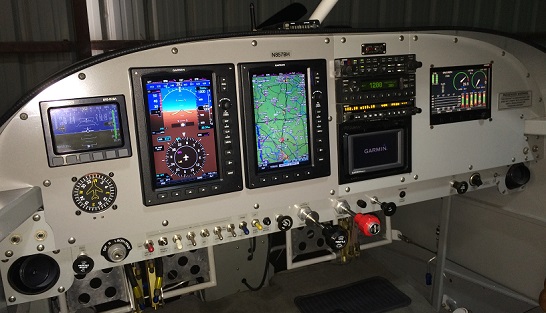 Mark Phillips got this great picture of my plane after breakfast at Houston County

Sun-n-Fun 2015
I was home this year during Sun-n-Fun so I decided to go, just me and my plane! Had a great time, I had the time planned down to the minute for an arrival right as the airshow finished. What I hadn't planned on was when the airfield opened they allowed departures for an hour before allowing arrivals. I landed at Winter Haven and waited it out. Got in just in time to setup my tent, tie the plane down and grab a bite to eat and a drink before the night airshow started.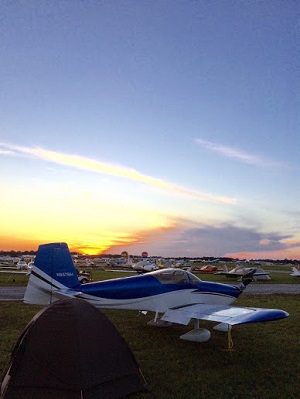 The first picture is the day I arrived, the second picture is the day I departed.
Click on the pictures to go see other pictures from the trip
May, 2015
I took a buddy from my airport up for a ride in my plane today. He was very impressed with the new technology of my Garmin panel and the performance of the RV. Fun times!
Aug 1, 2015
I asked a newly certified private pilot friend, David Adams, if he want to fly to Memphis for some chicken and he said sure! So off we went flew into Olive Branch, MS and meet a friend of his who then took us on a tour of the airport and then off to Gus's World Famous Fried Chicken. The chicken was really good but it was not hot or spicy like I was expecting. We stopped by David's friend house to look at some of his toys and then back to the airport. After takeoff we flew around the south end of Memphis and up the river on the west side. We stopped at General Dewitt Spain airport just for a quick visit. The flight to Olive Branch took 1 hr. 4 mins. the trip home was 1 hr. 15 mins. It would have taken 4 hrs. each way to drive.

Click on the above pictures to see more
Sept. 4, 2015
Both Marsha and I had today off and I've been wanting to fly to Scottsboro, AL to check out the Unclaimed Baggage Center, so that is what we did!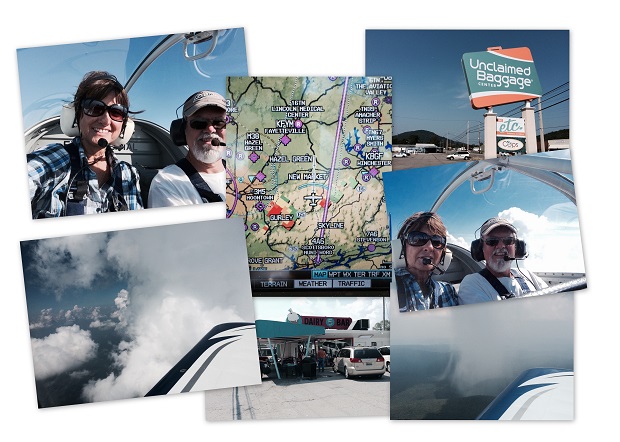 Click on the above pictures to see more
Sept. 19, 2015
Flew to Lee Bottom Flying Field - Hanover, IN I've read about this fly in and decided it was time to check it out. The weather was clear but there was some precip passing through north west of Hanover but it was moving north east and looked like it was not going to go through Lee Bottom, so I plugged on. Exactly one hour flight, got there at 9:35 EST. The ceiling got down to 1500 by 1:00 so I decided to take off for home. Even with the no so great weather their was still some neat airplanes there.

Click on the pictures above to see more pictures
Oct. 10, 2015
Attended my first AOPA Fly-In today. Tullahoma, TN
The weather was good here in Hopkinsville when it was time leave but Tullahoma was 600 ft. ceilings. My buddy Finley Cooper flew over from his strip to meet me and we flew down to Shelbyville 14 miles NW of Tullahoma, 3500' broken ceiling, and waited about 45 minutes until Tullahoma was reporting 1200 broken. Since the weather was bad earlier I didn't think there would be many planes show up. Was I wrong, I'd guess that there was about 300 planes. Some had come Friday and camped out, bad time to camp they had a flood, Friday night. It was a really good fly-in and a lot to see, there was one large building with exhibitors setup, kind of like a mini Sun-n-Fun. There was about 8 food trucks serving lunch and a few tents with seminars going on. I was hoping to attend a few of the seminars but didn't have time before having to head home.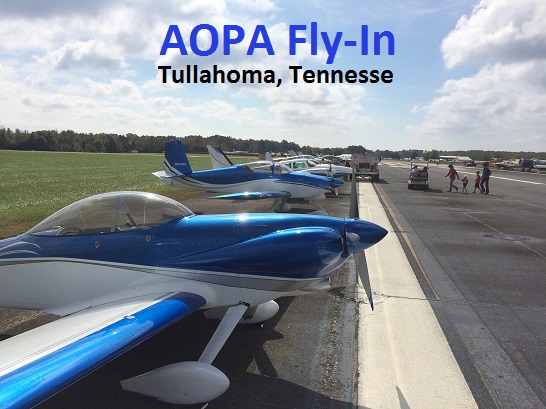 Click on picture to see some more
Oct. 16-17, 2015
We made it to the Petit Jean Arkansas State Park Fly in this year. We had a great time! A buddy and his wife, Sam and Rose Hodges, made it also. We hung out together Friday and Saturday. We always come home Saturday afternoon so we can make it to church Sunday morning. It was great weather. I had a problem with my battery found out that the main ground from the battery to the engine block had broke at the tab. I have a second ground so I was able to fly home with no problems, just a battery that would not charge properly. Got that fixed as soon as I got home. We did some hiking and a lot of laughing. Saturday before leaving I decided to fly the point for a photo shoot. The photographer, Daniel Valovich, got a couple really nice photo of my plane. Hope we get to go next year.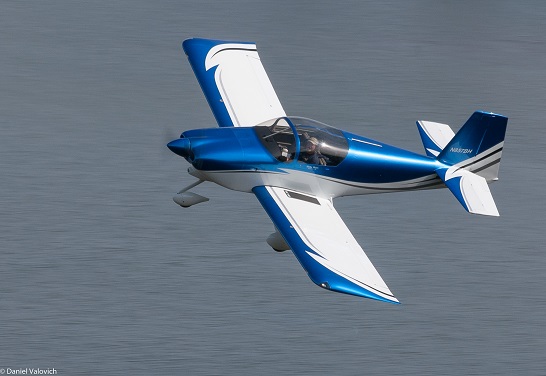 Dec. 15, 2015
Well I had decided to wait awhile before buying the components to equip my plane with ADS-B out. I was on the road with work reading through VAF forums and found a Garmin GTX330 mode S transponder for sale at a good price, it would have to be upgraded to an ES model but it still came in cheaper than buying a new one. So I bought it. Now I'm going to have to dig into the panel again to install it. It's longer than my GTX320 so I'll have to cut through the sub panel, so it's going to take some work, it sure beats paying someone to do it, glad I built an Experimental :-)
Dec. 22, 2015
Went flying after work and got a few really nice pics.