My 2019 Flying Adventures
2019 - Nothing new coming up this year. I'm hoping to make it to Sun-n-Fun - Lakeland, FL, back up to Belfast, ME and Petit Jean, AR this year.
Jan. 2019
Repacked bearings and replaced the brake pads. I'll need new tires all the way around later this year.

David and I decided to fly down to the Shelbyville, TN fly-in breakfast then we flew over the Tullahoma for some cheap fuel, while there we decided to check out the Beechcraft Heritage Museum. This is a really nice Museum and had a lot more planes than I thought it had. If your ever in the area stop and check it out. One of the AOPA fly-ins is scheduled to be here this year, Sept. 13 and 14


Click on the Pictures to see the whole Album
April 2019
Time for Sun N Fun. I decided to fly down to Lakeland, FL for SnF and my buddy Sam asked if I wanted a passenger - sure! The initial plan was to fly down Wed. morning and fly back Sat. morning. Well just like every year the weather was changing and making it hard to decide exactly what to do. Tuesday night with the weather for the weekend not looking to good, I decided to leave earlier than normal and maybe coming home earlier.

We took off at 5:15 am, set the autopilot and climbed to 9500' for a dark smooth ride toward Florida. We were a little northwest of Atlanta, GA when the sun decided to join us. We stopped in Moultrie, GA for our fuel stop as we do every time we go to SnF.
Jun. 2019
After 12 years of service my Floscan fuel flow transducer quite working. I checked the price of a new one and it was about $366 Electronics International makes one for $194. Did some research and found them to be pretty much equal in performance, so I installed the EI version. I'll verify the calibration on my next long trip. I also added this neat little flap switch cover.
Jul. 2019
Sam and I flew to Oshkosh again this year. Oshkosh started off slow with heavy rain Sat. and Sun. so even Mon. and Tues. morning they still couldn't park many planes in the grass. We flew up Wed. and the rest of the week was really nice. While planning the trip I found a good place to stop for fuel between Chicago and Oshkosh, Burlington, WI. $3.79. I wasn't the only one to find it. We flew to De Kalb and turned toward Burlington. I checked my fuel computer and it said we had burned 23.8 gals. I filled up the plane turned around to see how much I added and found that it was exactly 23.8. I guess my new fuel flow transducer calibration is right on the money.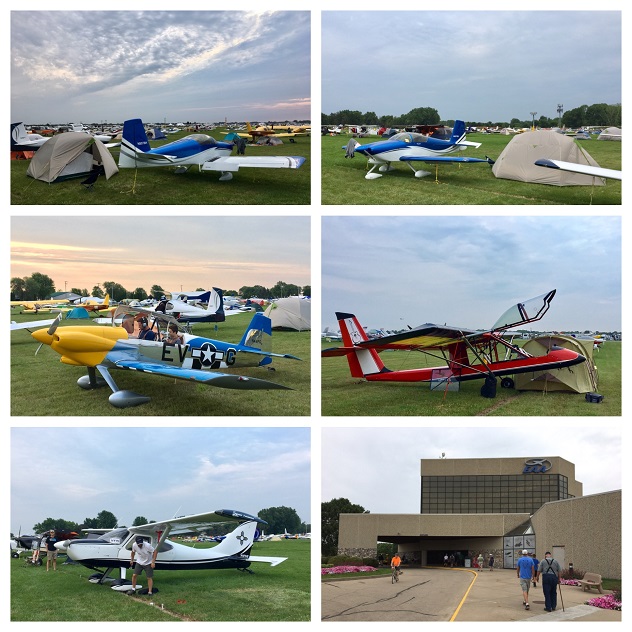 We got to sit through some really good programs. I really like the one with the older guys telling their stories. While at the museum we heard Dick Rutan explaining the problems they encountered with the non stop round the world flight. We also listed to Burt Rutan talking about all the aircraft he designed. We heard astronauts Joe Engle and Mike Collins, I loved it! You can find it on YouTube, here is the link: EAA Live - 50th Anniversary of Apollo 11 with Michael Collins - AirVenture 2019
When you get some time you've got to watch it, it's 2 hrs 23 mins long, the second half of it is the best. You get to see and hear things at Oshkosh that you don't hear or see anywhere else. Sometimes these are late evenings events and if you are not camping there you'll most likely miss them. We went to another program that had all the current social media / YouTube guys and girls on stage telling us their stories. While walking through the AOPA tent we saw Melissa Rudinger who is a co-host on AOPA Live. One night we saw Kevin Lacey "Airplane Repo Guy" watching the night airshow.
Strolling through the war bird area, always neat to see.
Ok, time to head home, waiting to take off the Ford tri motor taxied by. Pictures of the Ultralight strip as we climbed out. We decided to fly the Chicago skyline for some photos and then head to our lunch stop.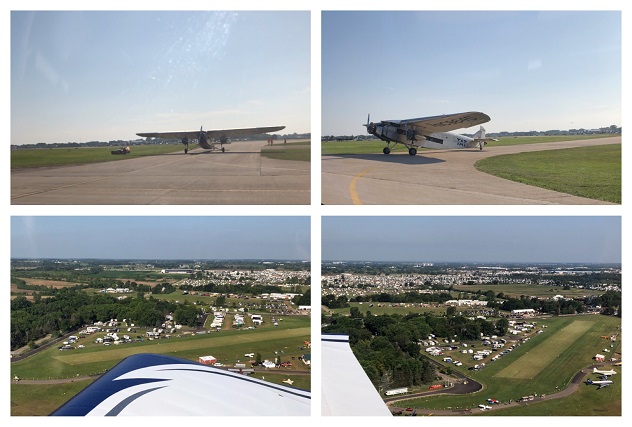 Last year I found a BBQ place that looked really good in an area that would make a good fuel stop. We checked it out and it was great! We've been wanting to go back, so here we go. Fly into Frasca Field Airport (C16), Urbana, IL, get 10 gallons of not so cheap fuel $5.33 then call for an Uber ride. Black Dog Smoke & Ale House - Good Stuff! A stop on the way back for ice cream and we were off for the final leg.
Oct. 2019
Rain messed up our Petit Jean weekend again this year, but the weather did clear up for David and I to fly over Sunday, we took off just before sunrise and got home just after sun set.
Oct.-Nov. 2019
Nothing special going on just the normal Fly-In breakfast's. Airways Cafe at KDXE - Dexter, MO and Southernaire Restaurant at M93 Houston County Airport in Mc Kinnon, TN
All the aircraft maintenance is caught up, so it was time to upgrade my truck radio. I've got a 2008 Toyota Tacoma and it has a AM/FM six disk changer, no Aux in, no bluetooth and for sure no Apple CarPlay. Time to change all that. More and more states are requiring hands free phone use so this will take care care of that also. I decided to installed a Pioneer AVH-1550NEX and a AUTO-VOX Cam 6 Backup Camera. I am very happy with this upgrade.
I like this radio so much, I even installed one in my wife's 2014 Toyota Camry, because her radio screen corners were dead and would no longer allow her to add a new phone. I bought both of them online through Crutchfield and got a good price and great customer service.