My 2017 Flying Adventures
2017 - Starting the year off on the road with work. No plans for upgrades, might add autopilot servos if I can get a good deal on a couple.
Jan. 2017
End of the month and time to start working on the condition inspection. I'm actually going to do it in Feb. but I wanted to start on the wheels because I have a few things to check into. The first thing I already have covered. Desser was having a sale that got my attention, right after thanksgiving. They were offering a free Aero Classic Leak stop tube with each tire bought. I check my tires and verified that yes I would need tires this year, so I bought two new tires and got two new tube for free. I saved about $100 on that deal! The next thing that I needed to check was the brake disk. I noticed a lot of people on VAF were having to replace theirs. The min. thickness on them is 0.167". I checked mine and found them at 0.166". The last thing to check is the brake pads. They are getting very close to needing to be replaced, so I'll be replacing tires, tubes, brake disk and pads, this year. Cleveland brake disk are $166 each and Rapco brake disk are $85, Desser has free shipping for orders over $100, so I ordered new brake disk from Desser. I've already got new Rapco brake pads.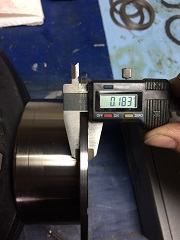 I was invited to join a group on Facebook called Tennessee Aviators recently and they announced a fly out to the Tennessee Museum of Aviation located on the Pidgon Forge - Gatlinburg airport. I let my buddy know and he flew his RV6A and I talked my oldest granddaughter Lexie into going with me. We took off and had about a 35 mph tail wind, sweet. We arrived 1 hour and 15 mins. after takeoff. took us an hour and 50 mins. to get back. The group had a total of 18 people to show up. We had a great time visiting the museum and then we all went to the Old Mill Restaurant for lunch.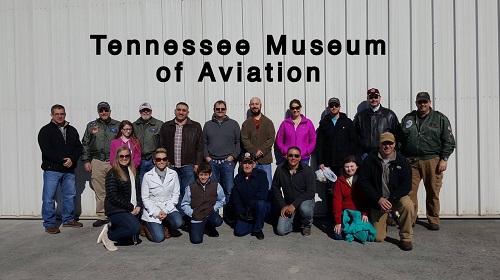 Click on picture to see all the pictures from the trip
March 2017
Finished up my condition inspection. My oil temp has been dropping out during flights recently so I had to order other Oil temp transducer. This is the second time to replace this, this time I'm splicing the the wire to make it easier to replace. Now it's time to start planning for Sun-n-Fun.

After I received the new Oil temp probe, the old one started working properly and has not failed since. Well, I have a new one on the shelf now.
April, 2017
Sun-n-Fun - We had a buddy and his wife, Sam and Rose, and another buddy, planning to fly along with us. Sam's wife was sick the morning we planned to leave April 5th, so they had to back out. Our other buddy David backed out because of the weather passing over Florida right before our planned takeoff. Lexie and I launched as planned. I figured the weather would pass by the time we got there, wrong :-( We deviated to KANB - Anniston, AL because of low clouds over our fuel stop, Moultrie, GA. We sit in Anniston for 2 hrs. while the low clouds burned away over the rest of the area to Moultrie. As we arrived to Moultrie I was watching the weather over northern Florida and it was not clearing, it was like the Gulf was just feeding the storm and it did not look like it was going to get better anytime soon. We sit in Moultrie for 4 hrs watching the weather and it was just going to ease its way up and not very fast. It looked like the earliest we would make it to Lakeland was going to be Thursday and by then we would not be able to go back home, if something changed until the weekend. I did not want to sit there that long, so after going for a pizza, we launch back for home. We did not get to make it to Sun-n-Fun 2017.
My Buddy David and his wife invited us to fly to Olive Branch, MS airport to visit Collierville, TN and go to a little restaurant called Cafe Piazza for lunch. David has a buddy there that picked us up and then let us borrow his truck. Fun times!
Our next trip was with the Facebook group Tennessee Pilots. Marsha had to work, so my oldest granddaughter Lexie went with me. We flew to Gainesboro, TN to go to The Bull and Thistle pub. This is a very unique place in such a very small town. It is very beautiful inside, the service and food are both very good. The only bad thing is that it is such a small town that there is no way to get a ride to the pub unless you called before your planned arrival and see if the pub can arrange for a ride. All the meals are prepared fresh by a chief and his crew and the prices are very reasonable.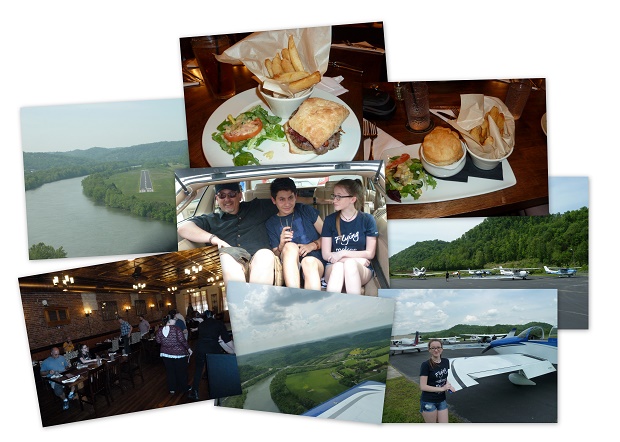 July, 2017
Bought a couple used Whelen LED landing light from someone on VAF, so I replaced my original Duckwort 55 watt lights. More light and less power consumption. A little more expensive, I had to order a new Whelen wig-wag flasher because my original Aero-electric (NAPA) flasher will not work with the lower power LED lights. Worked upside down under the instrument panel and remove the old flasher and installed the new one, disconnected the rectifier, I left it in because it was too hard to remove. Since all the wire in the plane terminated with Fast-on connectors I stayed with those connector on the wires of the new flasher.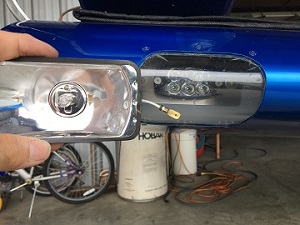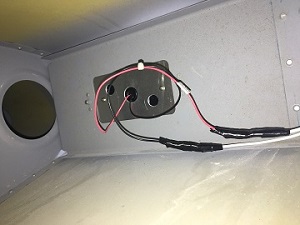 Sept 4, 2017
I flew to the Lebanon-Springfield airport (6I2) today to help out a fellow RV builder, Mike Cotes. He has recently completed his RV9A and hasn't been able to complete the first flight. I flew over a few weeks ago to help him complete his first condition inspection, so I got to look it over really good. Everything looked good; he filled me in about some of the things that were different between his plane and mine. I planned to fly it for 30 mins. if everything looked ok after takeoff. I took off and didn't find any problems that needed to be addressed right away, so I flew for 30 mins. and checked out as many things I as could. I went back landed and filled Mike in on a few items that needed attention. We adjusted the ailerons a little, looked everything over and I took it up for another 30 mins.. I checked a few more things out and recorded reading for Mike. Everything went well and I jumped back in my plane and headed home.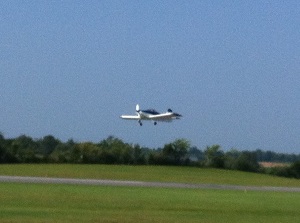 Sept 15-17, 2017
We had planned on flying back to Maine this year, but the weather between here and there had other plans so Thursday night we decided to take a long weekend trip to Branson, MO. We got up Friday morning packed, checked weather and planned the route, made some reservations (hotel, car, a show, and a dinner), and headed to the airport. I had the plane prepared and ready just in case we decided to go somewhere. We were off and flying by 10:30. It was a 2 hour flight; we climbed to 6500' and had a nice smooth flight all the way there. There were a few cloud layers below us in a few spots. Auto pilot would have been nice to have on this flight. I'm hoping to add it this winter. We arrived at M. Graham Clark Downtown airport (KPLK) exactly 2 hrs. after takeoff. We tied the plane down , put the canopy cover and gust locks on. We went inside and left our contact info with the front desk then walked to the other end of the terminal bldg. to pick up our Avis rental car.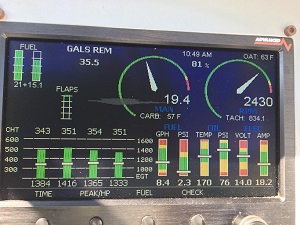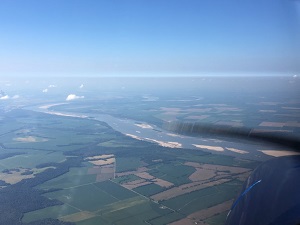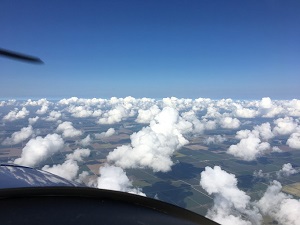 We drove down the main strip, explored a little and headed to the hotel. The last couple days I checked Trip Advisor for what to do in Branson. I found the best two places to eat, the best show to see, read some reviews and try to make some plans before we left home. Marsha wanted to go to the show Friday and go to the best dinner Sat.. Well the second best place to eat was Rocco's Pizza - NY style. We got ready and off we went. When I pulled into Rocco's, my first thought was maybe this was a mistake. It's in a house converted into a restaurant we got there about 35 mins. after they opened and there were not many people there. We went in and placed our order. More people were showing up and the owner was making sure that no one had to wait for anything. We found out that he was one person short but he was making up for it. Our pizza was great! We found out real quick why it was rated so well on Trip Advisor. After dinner we had a little time before the show so we went downtown to Branson Landing, a nice outside walking shops type of place. We walked for a while and then off we went to the Sight and Sound Theater for the biblical musical "Moses". It was a very good show, a lot of time and work went into this show. After the show we went back to the hotel.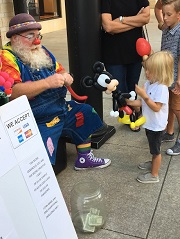 The next day we explored Branson some more and went to the small Creation Museum north of Branson near Springfield. We did not eat lunch because tonight we had reservations for dinner at the Dobyns Dining Room at the Keeter Center, located at the Collage of the Ozarks. This is a very good place to eat, make reservation. It is only one mile from the M. Graham Downtown airport so it is just a nice 30 min. walk if you wanted to fly in and walk over to eat, they are open 10:30-8:00. We checked the weather and were hoping to get to attend church on the campus Sunday morning but it was not going to work out. There was some weather on the way and we needed to be gone by 11:00. I did have just enough time to stop by the Keeter Center for some locally made ice-cream. We had clouds between us and home and could have flown home at 3,500 and dodge some storms but I decided to climb. I thought I could climb to 7,500 but along the way I had to keep climbing to get over it. We ended up at 13,500. I didn't really want to go that high but it all worked out. Two hour flight there and two hour flight back.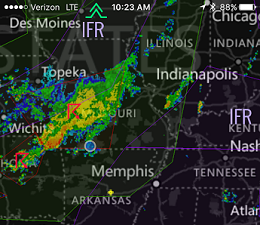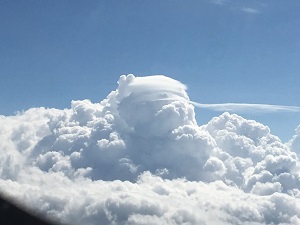 Oct 2017
My youngest granddaughter, Livie, wanted to go flying, so we did :-)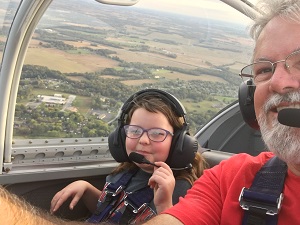 I decided to surprise Marsha for our anniversary. I found a Toucanos Bazillion Grill in Noblesville, IN, north-east of Indianapolis. It was only a 15 min. drive from the airport and they have Uber rides in the area. The weather could have been better but it was doable. 3000' ceilings up and back.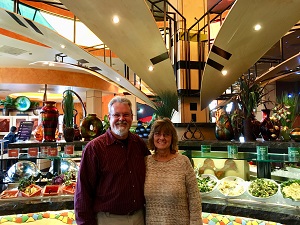 Nov 2017
Well, I decided it was time to purchase my autopilot servos. I got the pitch servo and roll servo installed. Next step will be to get them wired. That will take a while.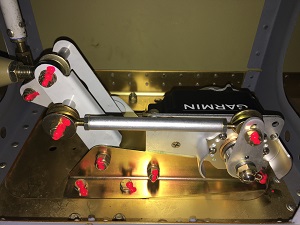 I bought a different ADS-B In box to install, I have been having trouble with my current setup. I think it is in the wiring. This one installs a little different and I think it will cure my problems.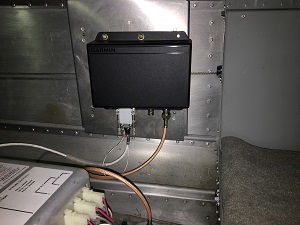 Flew a buddy to Beckley, WV to buy a plane. There are a lot of mountains and trees over there.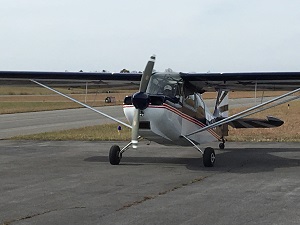 I flew to Sikeston, MO to eat at Lambert's. My granddaughter Lainey came along :-) We were invented to tag along by my buddy Sam, he was taking his granddaughter. My buddy David and his wife decided to come along also. we planned our takeoffs so we could meet up with Sam over KY Dam. Perfect timing we all arrived at the same time.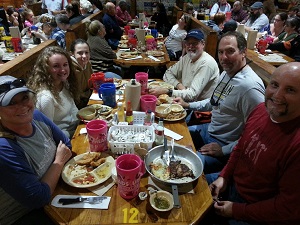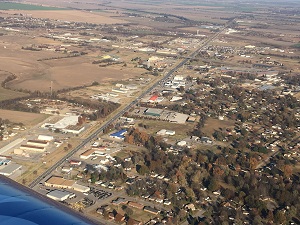 I finished up all of my autopilot wiring, and got everything put back together.
Dec 2017
I flew the plane to check out the autopilot. The roll stability was rock solid, the pitch was oscillating slightly for/aft. Made some adjustments to the pitch gain and got it dialed in pretty good, might play with it just a little more.
Go back to My 2016 Flying Adventures