Famous People of Aviation
This page is a record of famous people of aviation that I have had the pleasure of meeting. You may not have heard of these people but they are some people that wanted to do what they could to serve and protect our country. There stories are amazing. They recalled every detail of their service like it just happened yesterday.
Feb, 2010
I haven't met him in person yet but I did get to see a video of a visit he made to the EAA chapter in Lebanon, TN. His name is Dan Cherry while flying an F4-D Phantom II 550 on April 16, 1972 he shot down a Vietnamese pilot, Nguyen Hong My, who was flying a MiG-21. Brigadier General Cherry's plane is now on display at the Aviation Heritage Park in Bowling Green, KY. On April 5, 2008 the two pilots met in Vietnam, became friends and Nguyen Hong My came to The dedication of Aviation Heritage Park in Bowling Green, KY April 16, 2009.
There is all kinds of information about it at this web site:
http://www.aviationheritagepark.com/index.html
April 20, 2010
Today I was in Colorado Springs, CO with work and the local EAA chapter 72 was having a meeting and the guest speaker was Millicent Young one of the 300 Women Airforce Service Pilots (WASP) honored with the Congressional Gold Medal a ceremony in Washington D.C. on March 10, 2010 for service as a pilot during World War II. The WASP was a pioneering organization of civilian female pilots employed to fly military aircrafts under the direction of the United States Army Air Forces during World War II.
Young decided at the age of 6 she was going to be a pilot after seeing her first plane land in a nearby field. There was a big open field next to her family's farm where barnstorming pilots would sometimes land to spend the night. She worked hard to pay her own way through training. "I farmed to get the money and when I got enough money I told my mother I wanted to go to town to buy clothes to go to college," said Young. But she never planned on buying clothes. She planned to catch a bus out of town.
"The bus was going the wrong direction and I waited until the very last moment, and I run and I got on the bus and I said to my mother, "I'm going to learn to fly." So she went home and my dad said, 'I got a chore for Millie.' And mom says, 'She's gone to learn to fly, and my dad said, "Well I'll be damned." And that was the end of the conversation. He was proud of me. They were all proud of me," said Young.
Young earned her wings and became part of the Army Air Corps at the age of 20. She served her country until the WASPs were decommissioned in 1944. "We were kicked out when the boys came back from overseas. They closed the WASP program and we had to pay our own way home," said Young.
For most WASPs it was never about the recognition, it was about doing what they loved. "They kept talking about our sacrifice. I didn't sacrifice anything. I was making an investment, in my country and in me," said Young. Despite all of the obstacles Young faced becoming a pilot ,she says the hardest thing she ever did was raise five children.
WASP Millicent Young of Colorado Springs, CO, recalled a young man who came to refuel her AT-6 in Carlsbad , CA. "When he saw the pilot was a woman, he glanced over and shouted, 'What are you doing in there?' The refueler said he should be flying the plane because 'I'm a man.' To which she replied, "Honey, if you were, I'd have noticed." Young added that the refueler "jumped off the wing and I never saw him again; someone else serviced the plane and I was off."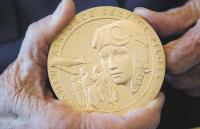 Here is a good site to learn more about the WASP:
http://www.wingsacrossamerica.us/wings/index.htm