My 2016 Flying Adventures
2016 - ADS-B out, this year? I had planned to wait a year or two but found a good deal on a Garmin GTX330 so I bought it and had it sent straight to Garmin to be upgraded to an ES model, so looks like I'll be digging back into the panel soon. On another note, we're hoping to take a vacation later this year with the plane, we will see.

For those that do not know what ADS-B out is, this will allow me to see all air traffic with a transponder (most aircraft have transponders) will show up on my new Garmin screens that I installed last year and allow my to fly in some places that come 2020 I would otherwise have to avoid.
Jan, 2016
Took a friend of my wife's (James Hargrove) flying today, he's been wanting to go for some time, we both finally got an empty spot in our schedule. He liked it a lot, well up until I did a low fly by of a grass strip and a steep pull-up at the end, I said elevator up and he screamed like a little girl :-) Sorry James I had to say that!
Just got word from SteinAir that my Garmin 330ES transponder and Garmin GPS 20A should arrive here Thur.Jan.14 and I have a 4 day weekend coming up. I don't know how far I'll get but I plan to get it all started. First items to accomplish is to de-pin the old HSI harness from the SL30 and remove it, then hookup wires to the SL30 from the G3X for the nav HSI and the frequency push wires. Remove the radio stack and modify the subpanel to make room for the 330ES tray. Once these items are done it will be time to run the new wires and pin the new connectors. The last items can be added any time this year, not sure if I'll get them done before Sun-n-Fun, mount the GPS 20A and GA35 GPS antenna and run the wires and coax. It's been very cold and even the Kerosene heaters aren't much help.
To see the pictures and progress click here: ADS-B Out Install Photos
Mar., 2016
I was on the road with work for the month of Feb., so I'm just now getting back to work on the plane. I changed the oil and finished up the condition insp.. Now it's time to get back to work finishing up the ADS-B out install. The only thing left to do is to installed the remote Garmin GPS 20A, which is a ADS-B Out compliant WAAS GPS position source for experimental aircraft. I had to replace my battery that I put in last year due to the problem I had in Oct. last year, that battery discharged too far and would not hold a charge, I just put my old battery back in then and got a replacement that I've been waiting to install until now. I made the mounting plate for the GPS 20A and mounted it to the plate. Ran the wires under the floor and seat panels and installed the GPS 20A bracket into the plane, installed the GPS20A and the GA35 antenna, connected all the wires and coax. Upgraded the G3X software and changed some setting in the 330ES transponder. Wa-la we be done!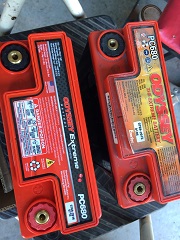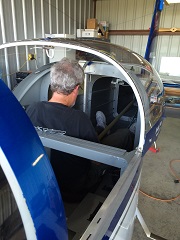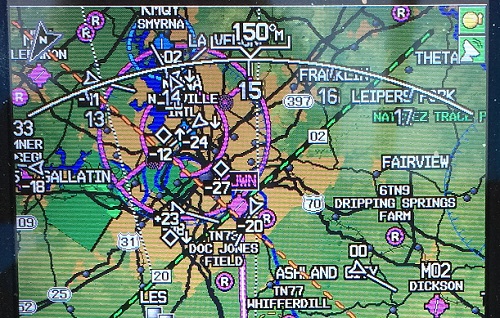 ADS-B Out 2020 Compliant - We have traffic!
My carb has started not shutting off completely when I pull the mixture back to cutoff, so I took it off and took it apart to see what was up. I found that the mixture metering valve was worm and had a bend that had set in the spring. Ordered new parts and will put it back together this weekend. Carb parts can be ordered directly from Marvel Schebler https://msacarbs.com/ Sun-n-Fun planning is underway!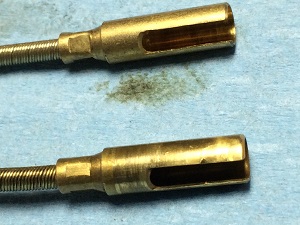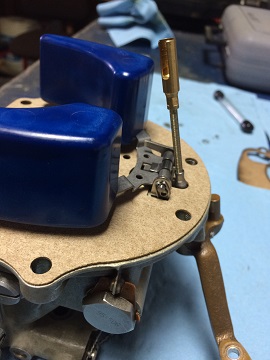 Apr., 2016
This year my oldest granddaughter Lexie (13) was going with me to Sun-n-Fun, her first time. Planning was going well, I got my carb parts in and replaced the worn parts, put it back together and it checked out great, it now works like it's suppose to. Our plans were for two other RV buddies to fly with me as a flight of three to SnF. Sam Hodges called and said his newly installed autopilots wasn't working so I flew over to see if I could help. We double checked the install and could not find anything wrong, I think it is something internal to his units, not working correctly. So he decided to leave it off and trouble shoot it more after he gets back. He also had his alternator die and he had to replace it, new one worked great. Finley Cooper called and said he had everything back together and working on his RV4 then he took it up for a few runs and found out later that evening that he blew his front prop seal and would not be able to go. I got a call from a buddy three hangers down that said he heard that I was flying to SnF and wanted to fly his Mooney down and ask if we would mind if he tagged along with us. So we still launched as a flight a three at about 0720 Thursday morning (20mins past scheduled TO). We arrived at our fuel stop Moultrie, GA at our scheduled time due to a nice tail wind. We also had to fly 10 mph slower than normal for the Mooney but that was ok less fuel burn! I only burned 15-16 gallons, sweet! Fuel, hotdogs, cookies, water and we were off. Sun-n-Fun arrival was uneventful, well for me, Sam said he got a little close to me during landing and had some wild air to deal with. We had a great time while at SnF. We left Sunday morning after we got everything packed up and headed to our fuel stop Marian Co., southwest of Ocala, FL, they always have cheap fuel. From there we headed to Cedar Key for the best seafood you can get anywhere. We where checking weather at each stop, there was a line of weather that was moving east and out of our way near home. We decided to fly to St. Clair Co., Pell City, AL, refuel and double check weather. Everything looked good and off we went home.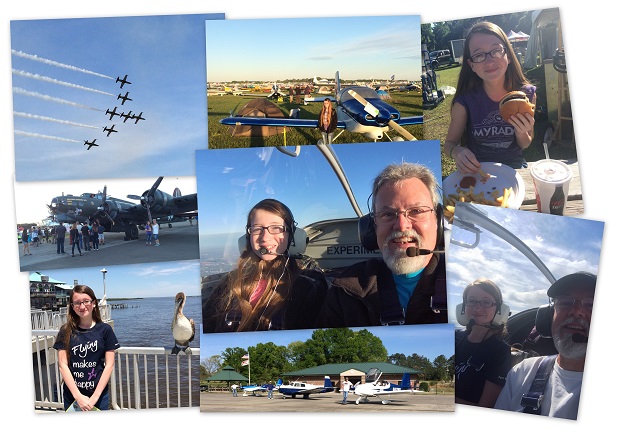 Click on pictures above to see more from SnF
May, 2016
Flew to Chicago for a visit and I asked Marsha if she wanted to fly around the north of the city and down along the shoreline to get some pictures of the skyline. She wasn't real sure but decided to go for it! It was my first time so I asked for some pointers from a local instructor and he pretty much confirmed what I was planning, but told me that I could contact Chicago Approach to request flight following (I didn't think they would want to since they let you go from flight following when flying in just before the mode C vail) and that worked out great. It was pretty bumpy and the afternoon sun shadowed the skyline but Marsh was still able to get a few pretty good pictures.

Click on above picture to see more
Mike Kellems has a Memorial Weekend Gathering every year and this year my buddy David Adams and his wife flew down with us is there newly purchased RV6A. Marsha was able to get a few nice pictures along the way. Since we had the wifes we climbed above the clouds for a smooth ride down and back.

Click picture above see all pictures
Jun., 2016
Mayfield, Kentucky was having a Shrimp Boil & Fish Fry so I let some of my flying buddies know and we showed up and had some great food. Another real nice thing about Mayfield is they have a dairy mart just a short walk down to the main road. We couldn't leave without ice-cream :-)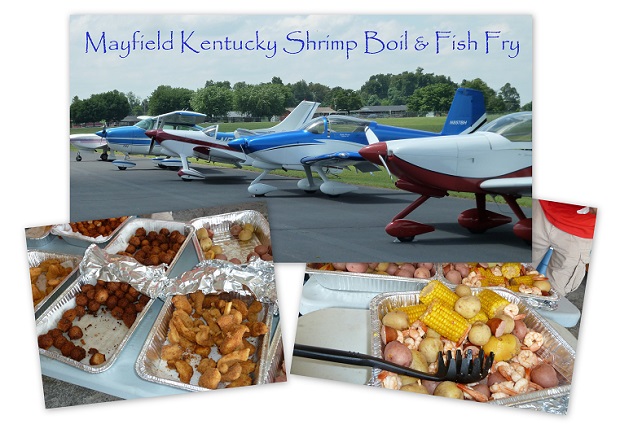 A friend from church, Gail McKinney, has been wanting to go flying for a while, so today she got to go! She really liked it! We did the Hopkinsville-Kentucky Lake site seeing tour.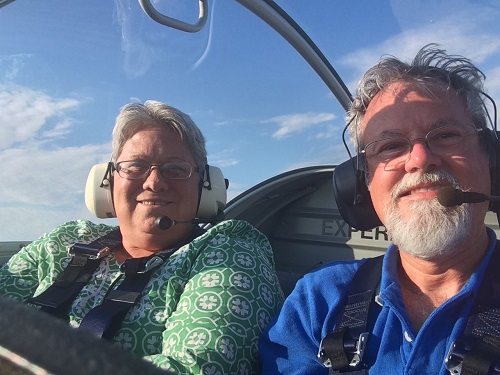 Aug., 2016
Harrison Avionics and Garmin had a ADS-B seminar here at Hopkinsville's airport, so I planned to attend, never know what you might learn. They had one about a year ago and they had a pretty good turn out. This one didn't have as people, maybe because the weather wasn't very good. They brought one of the new Garmin G5 instruments, it was running on the backup battery the whole time, very cool and it fits in a small space. At the end of the seminar they had two door prizes to give away. Both were very nice and would be nice to have. One was the newest D2 Bravo Titanium watch and the other was a real nice Garmin flight bag. They decide to give the watch away first and started calling out the ticket number. I looked at my number and followed along 5-2-3-1-8-7-7, no way, that's me! I won the watch!!! The watch face can be changed by downloading the ones you like.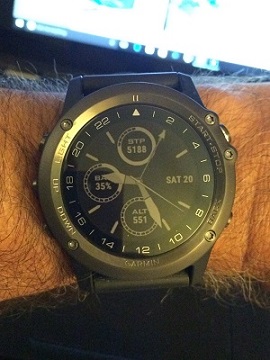 Sept., 2016
Marsha and I finally got to take a flying vacation. We went to Maine for a week. We flew 7.3 hrs. to there, 1.6 while there and 6.4 hrs. back, of which, 0.5 was night. There are so many pictures and I did a trip write on a website that everyone that fly's a plane like ours go to, you can click on this link to take you there: http://www.vansairforce.com/community/showthread.php?t=141972 just come back when your done, remember there are multiple pages so don't stop when you get to the bottom of the first page.
Oct., 2016
Our next trip was suppose to be a overnight trip to Petit Jean State Park in Arkansas. The weather did not cooperate for this trip. Friday the day we planned to take off was bad weather there and heading our way. I canceled our room and planned to fly over by myself Saturday. Saturday morning had low clouds between here and there. I kept watching the cloud cover at the airports along the way to see if it was going to clear so I could go. It was not clearing up. I decided to head out hoping that it would clear up along the way and by the time I got there. It seemed to be clearing up as I went further, but not at Petit Jean. I was VFR on top and the cloud layer was about 1000-1500', it was also broken in areas. I kept checking to insure I would have enough fuel to make it back to a clear airport as I went further. About 15-20 before I got there the first couple planes made it in. It cleared up just enough to make it in and I knew that it would continue to clear up as the day went on, so there was not going to be an issue when it was time leave in the early evening. It ended up being a good day and a lot of planes continued to fly in after I landed. A lot of people had to land at bordering airports on Friday and got Van rides to the banquet. They all got rides back to their planes Saturday morning and then flew them in. Here is the link to the pictures I took while there: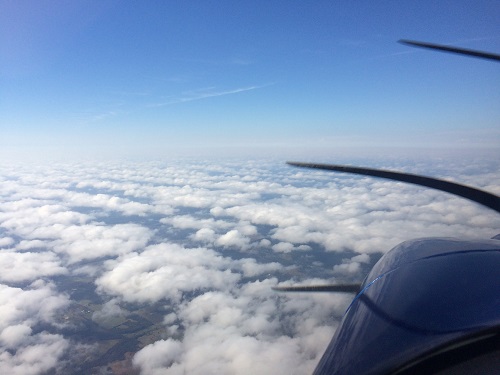 Click on the picture to see all the pictures from the trip
Our next trip was for our anniversary. I had hear about French Lick, IN being a neat place to fly to, so off we went to check it out. It is a really cool place. You land at the airport and they will call the shuttle to take you into town. There is a casino hotel, which also has a concert hall. The town also has a few different restaurant to choose from. A couple miles down the road is a very old huge hotel that has a long and interesting history. We went there first and took a trolley ride back to the casino hotel. we walked around the town and ended up at a very good German Restaurant. Sara Evens was performing that night at the Concert Hall, if I had know I would have gotten tickets and maybe spent the night, maybe next time. Fun trip with my best friend.

Click on the picture to see all the pictures from the trip
Go back to My 2015 Flying Adventures