My 2011 Flying Adventures
Feb. 2011
I replaced my main tires during my condition inspection this year. I changed my first set of tires at 207 hrs, they had 357 landings on them. This was my second set and they had 237 hrs on them and 412 landings.
March 31-April 3, 2011
I decided to go to Sun-n-Fun this year, so I asked my buddy Finley Cooper if he wanted to go. He jumped at the opportunity. The plan was to leave Wed. March 30th but the weather did not allow it. We watched the weather for 2 weeks. It looked like we might be able to get down there or at least most of the way Thur. March 31. We figured that we could leave by noon and get to our fuel stop and stay the night there if needed. We got to the airport early and got everything loaded. The weather wasn't very good at all. We kept checking and it looked like it would start clearing out from the west, so our plan was to take off and fly directly south, stop for fuel at Alexander, AL if needed, in hopes that the weather would improve at our planned original fuel stop Moultrie, GA. At 12:20 we were off, we couldn't get over 1500 ft until we got near Huntsville, AL, we made it to 2200 ft before we made it to Alexander, AL. (1.7 hrs) Fuel was $4.20 so we fueled up and checked our phones for any messages. I had a few messages and found out that a tornado had gone thru Lakeland and torn up some airplanes. We checked the weather and found that the storms would be clearing out overnight and the rest of the weekend was going to be good, including Sun. the day we plan to fly home. It looked like the weather in Moultrie was going to start clearing out by the time we get there. So off we went, we got to climb to 7500 ft for this leg. (1.0 hr) When we arrived at Moultrie the airport manager was on the ramp directing us where to park, he put chocks under our wheels and asked us if we needed anything. Two other planes arrived just before we did and were discussing what they were going to do for the night. They each decided to go to two different hotels and each group were taking the two courtesy cars. We asked the airport manager if we could just sleep in the terminal over night. He said that was not a problem and said that his wife would give us a ride into town for dinner and come back to pick us up when we were done. We had a great dinner at a seafood restaurant. We got a good nights sleep and we were off for Lakeland at 7:20am. If your ever in that area stop by Moultrie, the airport manager and his wife will bend over backward to help you with anything you need. Flew to Lakeland at 5500 ft (1.5 hrs) we had about three planes in front us and a few other behind us as we flew over Lake Parker. Very easy getting into Sun-n-Fun. Had a good time both Friday and Saturday. Meet a lot of people that we only knew on the net. Sunday mourning we got up at day break and packed everything in the plane and was ready to go by 8am. We took off and flew to Cedar Key, FL, if you are ever in north-central Florida you have to go to Cedar Key. They had a art festival going on and we saw a lot of neat stuff people had made. We had to wait till 11am for the restaurants to open for lunch so the arts festival was just the right ticket. We read the menu at Steamers and they had exactly what we were looking for. I had steamed shrimp, steamed clams in garlic and white wine sauce and a grouper sandwich. That was the best seafood I have ever had. We called Judy who is the airport taxi service, and a few minutes later we were in the plane and on our way back to Moultrie for fuel. (0.9 hr) and full tanks ready for our last leg homeward bond. We had the weather forecast for home and it was clear but winds were suppose to be 210 degrees 25mph gusting to 35. We needed to stay low due to stronger head winds the higher we went. We flew most of the way at 4500 until it got pretty bumpy and then we climbed to 6500. We arrived home to winds 210 degree 16mph gusting to 24. (2.6 hrs) Another great trip complete.
To see some of my trip pictures click on the link below.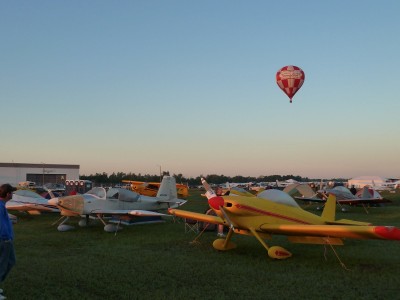 https://picasaweb.google.com/bobbyhesterKY/SunNFun2011
April 17, 2011
Had a mag failure during my ground run today. I took it apart expecting to find something wrong inside, but it looked fine. I had a new one on the shelf so I swapped them. I'll do some more troubleshooting on the dead mag (466 hrs.) when I have some more time. Glad I kept that new mag on the shelf and didn't sell it.
May 5, 2011
Flew over the flooded area around Cairo, IL got a few picture with my iphone. A lot of flooded farms.

https://picasaweb.google.com/bobbyhesterKY/FloodedCairoIL
May 6, 2011
We had today off work so I picked up a buddy (Nate McMillion), that I work with, who's been wanting to see what it's like to fly small planes.
Looks like he liked it, I really think he just liked wearing that sexy purple headset :-)
June 4 - July 17, 2011
I found out about "The Kentucky Airport Challenge" it was put together by someone in Thompkinsville, KY. It is going from June 1 to July 30. There are 35 airports participating and when you land at one of those airports you get a stamp in your passport booklet. On July 30 there is going to be a lunch for all the pilots that participated. After the lunch there is going to be prizes awarded.
June 4 - 13 airports - 4.6 hrs flight time - 45 gallons of fuel
June 9 - 3 airports - 1.3 hrs flight time - 12 gallons of fuel
June 11 - 8 airports - 2.6 hrs flight time - 23 gallons of fuel
July 9 - 9 airports - 4.6 hrs flight time - 40 gallons of fuel
July 17 - 2 airports - 1.5 hrs of flight time - 14 gallons of fuel
------------------------------------
5 Flights - 35 airports - 14.6 hrs flight time - 134 gallons of fuel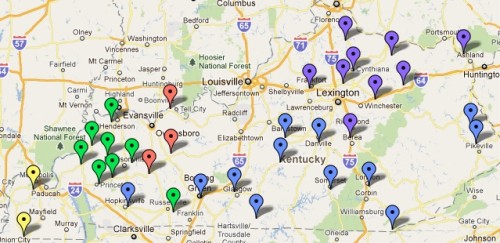 July 16, 2011
Today I took a friend/co-worker (Rita Kay) of my wife flying. She really wanted to see what it it was like and she loved it, of course! Maybe it's just because of the great pilot :-)
July 17, 2011
Today I finished getting my last 2 airport for my "Kentucky Airport Challenge". I asked my wife if she wanted to go along and she did. We flew to the last two airports they just happened to be to furthest north-west and the furthest south-west airports. On the way home I asked Marsha if she wanted to fly the plane, she hasn't wanted to in the past. She use to fly my Rans S-12xl a little. She actually landed it without me touching the stick, a few times, all I did was work the throttle and tell her what to do. Well she decided to fly today. I talked her thru all the way to short final just before the flare, she did really good, better than I thought she would!
July 30, 2011
Today was the last day of The Kentucky Airport Challenge and Tompkinsville had a BBQ lunch for all the participants. After lunch was the prize drawing. The lunch was great, BBQ Chicken and Pork Stakes. I won a gift basket donated by the Lebanon-Springfield Airport. It was very nice. It included a brand new headset, a fuel sampler tube, and a North America Bed and Breakfast book which included a free night certificate and a few other little certificates. I also won a certificate for up to 18 hours of labor for an annual aircraft inspection, donated by Tompkinsville Aviation. I won't need this but I'm hoping that I can sell it to someone that does need it. I had to weave around some rain showers on the way. Fun times getting to meet everyone. They have already decided to do this again next year June through July with the end of the challenge lunch on Aug. 4, 2012.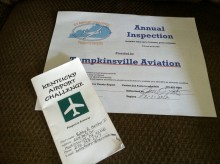 Aug 13, 2011
I went to Gallatin, TN for their Fly-In Breakfast. Boy do they put on a spread! I've never seen this much food and so many different items to choose from.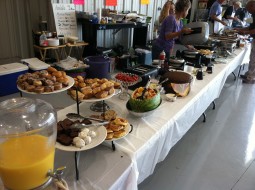 Oct 8, 2011
I talked my wife Marsha into flying with me to Gallatin, TN for their last breakfast of the year. As always they put on quiet a spread. It is the best fly-in breakfast that I know of.
When we got back I took a buddy up for a trip around the pattern :-)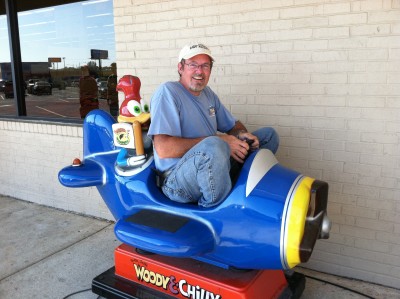 Nov 4-5, 2011
My trip to Petit Jean Park, AR for the annual RV Fly-In. There was close to 40 RV's on the field. I camped out Friday night. It was pretty cold, but I had a good warm blanket in my sleeping bag.
View all the picture here:
https://picasaweb.google.com/bobbyhesterKY/PetitJeanParkRVFlyIn2011
Dec.18, 2011
This evening I called a buddy from work that has been waiting to fly. He said he would meet me at Outlaw Field (Clarksville, TN). It took all of about 7 mins to fly there to pick him up. He wanted to try his hand at flying. Not too bad. He is an FI for the crew cheifs in the Blackhawks that we work on. Joe Scott - Good guy to work with.