My 2008 Jan-July Flying Adventures
Jan. 1, 2008
Today I finished up my 150 hr oil change, cleaned up the engine and found that my oil filler tube was a little loose. It was most likely where I was getting some of the oil that I cleaned off the engine. Next thing was to get the nose gear leg off and crated up to send in for the modification to shorten it. That was a change that Van's announced a few month back. It should be back in about 3 wks. Here is a picture of the ground clearance before the mod. It's about 3 1/2 in to the lowest point and the fork is about 4 5/8 in.
Jan. 10, 2008
I decided it was time to turn my tires around, while I am waiting for my nose gear to come back. They have worn pretty evenly but the outside has worn a little more than the inside. 150 hrs so far, I think I should get another 50-100 out of them. I tried to get a picture showing the difference but you could not really tell the difference in the pics. I did get some pictures of the brake pads. I'll get at least another 150 hrs out of them. Hard to tell in these little pics, click on them to enlarge. It was hard to hold the the scale and take the pics also. The left pic is my current pad and the one on the right is a new pad. My pad measures about 5/32 and the new one measures about 6/32. The new one is a Rapco brand and has a ware indicator. The bottom of the ware indicator measures about 3/32.
Jan. 18, 2008
I got my nose gear back and got it installed. It's about 4 3/8 in to the lowest point and the fork is about 5 1/2 in.
Earlier this week they torn down our terminal building. We are going to get a new one that is expected to be done about the end of summer. The office is now located in the NE corner of the big hanger. I didn't get any picture of the old terminal building before they tore it down but I did get a few after.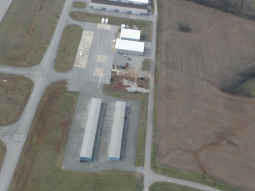 Jan. 21, 2008
I had today off and it was suppose to be a great day to fly, so I contacted a buddy (Andre), in Clarksville, TN and asked him if he wanted to fly to Sikeston, MO with me to eat lunch at Lambert's Cafe. He was all for it. I made the 15 min. flight to Clarksville in no time, picked him up and off we went. We flew over at 8,500 ft and it was smooth as glass. Visibility was about 100 miles. We radioed in about 8.5 miles out and Sikeston unicom came back and ask if they could do anything for us today. I told them that we would be going to Lambert's and would need a ride. They asked if we would be needing fuel and I told them not today. As we approached I told Andre that I would let him fly the pattern, I worked the power and flaps, while he flew us in, I took the controls just a little before the flare. As we pulled up in front of the terminal, there was a line boy waiting for us and directed us in. He put the chooks in and told us the van was waiting for us out front. Off we went and was taken to the exit doors of Lambert's for front of the line service. We were treated like royalty. The restaurant is divided into two dining areas, one side had just filled up and the other side was starting to fill up. If you own an airplane and are within a 2 hrs flight from Sikeston, MO and have not flown there to eat, you are not using your airplane for what it is designed for. You will have a hard time finding someplace that will treat you any better than this! The amount of food and the low cost is unbelievable, just watch out for the flying rolls. We both took enough food home for our wife's dinner. When we got back to Clarksville I let Andre stay on the controls while I adjust the throttle and flaps again, he got about 6' above the runway and asked if I want it and I just keep telling him what he needed to do and he landed it, needless to say he was giggling like a little school girl :-) Here are a few pictures, I was having too much fun to take any more. The first one is Ft. Campbell Army Airfield, where I work. Click on them to enlarge!
As a good buddy of mine always says, "And a good time was had by all!"
Feb. 2, 2008
Time for my first condition inspection. I took the plane up for about 30 min. (rolls, stalls, slow flight) to warm it up. I came back took the cowl off and got ready for my buddy to come over and show me how to do the compression checks. We also adjusted the timing, and check the condition of the plugs. They all looked great so we didn't change any of them. The picture is of the auto plugs from the top, the bottom aviation plugs were nice and clean also. I looked everything over real good. The front seal looks like it is seeping, but my A&P buddy said that it was not enough to worry about - pretty normal. I removed the air filter and cleaned it, I'll re-oil it tomorrow and put the cowl back on. I plan on doing a running inspection, I just have to get it complete by the end of the month.
Feb. 9, 2008
Today I meet with a group of guys from the Madisonville, KY Flight League and we all flew to Nellie's Hanger at the Dyersburg, TN airport for lunch. Eric Chumbley flew with me, Eric is who I go to for my Flight Physical. In the picture below he is showing everyone the video that he took of us doing a roll. Further down the page you'll see pictures of the phone booth that country singer Patsy Cline made her last call from before being killed in a plane crash in 1963. Click the pictures to me them larger.

March 31, 2008
The walls are going up for our new terminal building.
April 8-12, 2008
This will most likely be the highlight of my 2008 flying season. Sun-n-Fun Lakeland, FL
My buddy Richard and I were planning on going down to Sun-n-Fun on Wed. and returning on Sat.. Well the weather was telling us Tues. morning that if we were going that we would have to leave by 1pm or we wouldn't be going at all. We took off work after 4 hrs. and got everything packed and was wheels up at 1pm central time, our plan was to fly 3 hrs. and land at Moultrie, GA (MGR) to refuel, we chose this airport because of the low fuel price found through AirNav.com and because it was the same airport that I had been to when I flew to S-n-F with a buddy a few years ago and I knew that it was really nice. The plan worked out great! We flew at 3500' below a ceiling of 4000-4500' until we got near the Tenn. & Alabama border and the cloud layer became broken, we then climbed to 7500 and flew all the way to Moultrie. We refueled and was back in the air in 30 mins.. It was 5:30pm eastern time and Lakeland was about 1.5 hrs away we climbed to 3500' and as we got closer the Lakeland we had to come down to about 2000'. we landed at Lakeland at 7:10pm eastern time. We got our plane parked in the Homebuilt Camping area and our tents setup by 8:00pm. The next task was to find food. We were told about a good restaurant in the building at the east end of the field just a short walk from where we were. Sure enough it was great I don't think many people knew about it. We did run into a few buddies from Elkton, KY there.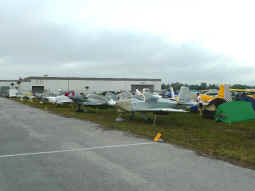 Runway 9, Lakeland, FL (LAL) My Plane and our tents in the Homebuilt camping area


HVC-MGR-LAL 700 miles 4.7 hrs
LAL-X35-CDK-CTJ-RMG-HVC 800 miles 5.2 hrs
Here is a map of our flight paths. The green line is our flight down on 4/8/08. It was about 700 miles. The yellow line is our flight back on 4/11/08. The Red line is the remainder of the trip on 4/12/08. the total return trip was about 800 miles. Our plan was to fly home on 4/12/08 Sat. morning but the weather told us something different. There was a cold front running diagonal from southern Mississippi and up past eastern KY, across our path and it was coming toward us. It was going to be coming though Florida about Sat. night or Sun. Morning. Our new plan was to leave Fri. morning, fly along the coast up to Dunnellon, FL (X35) to fuel up. Next was the highlight of our trip, Cedar Key, FL (CDK). Cedar Key is a little island in the Gulf of Mexico which has a about 5-6 great seafood restaurants. We had a great lunch at Anne's (The locals favorite) and was off to get as far north as possible before running into the cold front which was a line of storms. We stopped at Carrollton, GA (CTJ) to check the weather and found that we could make it another 30-40 miles further north, Rome, GA (RMG), just a short 15 min. flight but it would just put us that much further past the back side of the storms once they pasted overnight.
Rome, GA (RMG) was the right choice for a lot of reasons. Cheaper fuel than Carrollton, GA, as long as you use self serve, which I prefer anyway. Very nice terminal bldg., very nice and helpful people working there. I told the girl that we would need to spend a night in Rome because of the storms that were coming and she asked if we would need a rental car, I asked how much would it be and she told me $29, that sounded good. I asked her if there was anyway that I could get my plane into a hanger because the storm that was coming had hail and tornado warnings she said she would check with the manager and let me know. I then went to fill up the plane. She walked out to my plane to tell us that the car was ready and that they could let me put my plane into a hanger. That kind of service shocked me, that would not happen at my home airport. We put the plane in for the night and we took off for Kings Inn just down the road a few miles ($50). We got up about 6:30am and had breakfast then we were off to the airport. The clouds were opening up and we had unlimited ceilings all the way till we got home were another cloud layer had just rolled into town. As one of my good friends says "A good time was had by all" :-)
April 22, 2008
Today I went to a Safety Seminar sponsored by the FAASTeam and present by Mark Grady from AOPA. It was at the Lodge at KY Dam. My buddy Gene flew his C152 and I flew my RV. I flew a few circles around Gene and did a few rolls along the way :-) I thought there would be about 10-20 people show up, but was I wrong! There was at least 70 people there and about 6-8 planes on the ramp. It was a very good presentation. Mark Grady was very enjoyable to listen to. He has over 6,000 hrs in a C152 and a few hrs in the Goodyear Blimp. He use to be a traffic reporter. We flew back about 9:30pm, really neat night flight.
April 26, 2008
I installed a OAT probe for my Dynon in one of my inspection plate under my tail. This will let my Dynon show TrueAirSpeed and it will also give my wind speed and direction while flying a route on my GPS.
May 4, 2008
The terminal bldg. is coming right along, roof and electrical is getting done.
I've been asked what kind of movie camera I am using to make my videos. Well it's not a movie camera, it's a digital still camera with a video mode. It is a Panasonic Lumix DMC-TZ3. It saves the movie file as a .mov type file I save it to my computer and then use ImToo MOV Converter (the free version), to convert it to a .mpeg type file then I upload it to YouTube.
There has been a lot of discussion about replacing the internal battery in a Garmin 196-496 GPS and Kelly Patterson decided to see what it would take to do it yourself. He was in the process of moving and could not get the info on the web. I agreed to get the info out for him so here it is: How to change the internal battery of the Garmin 196-496
May 17, 2008
Today a buddy and I decided to fly down to Aircraft Spruce's Super Sale, not so much for the sale but just to fly for some fun. Moontown, AL has their fly in breakfast on the third Sat. of the month so the plan was to stop there for breakfast. I checked the weather before leaving and saw that there was fog right were Moontown was located, but I thought it would be gone by the time we got there. It was about a 1 hr flight. Sure enough clear all the way until we got 2 miles from Moontown and it was fogged in solid. We decided to land at Madison Co. Executive just 8 miles northwest and sit for a while to see if it might clear up soon. After we landed about 4 or 5 more RV's showed up to wait also. We land at about 8am and while we waited one of the other guys had a handheld which we used to listen to Moontown traffic. about 8:45 it sounded like sounded like we would not be able to get in so we decided to head on to Falcon Field were Aircraft Spruce was. We took off and our course took us right over Moontown, to our surprise the fog that was there 15 minutes ago was now gone. We radioed back to the guys at still at Madison Co. and told them to come on. We circled back around and landed for a quick breakfast. Moontown is not your average little airport. There is always so much activity going on. You see a lot of different type of aircraft there.
After the quick bite and a walk down the flight line, we were off to Spruce. Should be about another hour flight.
We checked out Spruce, bought a few things, and ate a couple hot dogs. I won a few little items in the raffle. I don't understand why Spruce does not give away a stack full of their T-shirts during the raffle, I don't think they even gave one away. Fuel at Falcon field was $5.60 but AirNav.com showed a little private strip a few miles north, Stockmar (20GA) had fuel for $4.89. I try to buy fuel at the lowest price places that I can find. We pulled up to the pumps and were greeted by two very friendly people. I'm not good at remembering names but it was the sister and a friend of the owner. They talked with us for a while and was very happy for us stopping by. I would rather fly out of my way to someplace like that rather buy overpriced fuel at a larger airport that could care less if you stopped there. If your in the Atlanta area and need fuel stop at Stockmar they use 122.90 for traffic, the freq. is not on the sectional. The Hobbs went over 200 hrs on this trip so it's time for an oil change.
May 31, 2008
Today my buddy Richard and I flew over to the KY Dam Airport (M34) 1st Annual Fly In Breakfast. We were the first plane to arrive, one or two showed up the day before. we did a low flyby for all the people that were there getting everything setup. As we taxied in I could not believe what I saw, it was a Beechcraft Starship! Early arrivers got a free t-shirt. We also received a ticket for door prize drawings. The first drawing was at 8:30 and low and behold I won! I won dinner for two at the KY Dam Lodge. By this time there was already a pretty good turn out. People were showing up from all over the place. I can not believe that we don't see more people from our area at these close Fly Ins. Well I'm telling you guys, you missed out on a good one here. There was a mix of all type of aircraft there. It's not everyday you can see a variety like that. These are a few of what I saw: Beechcraft Starship (only five flying in the world), Waco Biplane (only 4 yrs old), Cessna 400, RV10, 3-Thorps, a few Cubs, Jabaru, CTsw, Challenger, Kolb, and a few others that I don't remember the name of. I took too many pictures to put on my page so I created a web album. You can click on the link below to go see all the pictures. You can watch them in a slide show, print them, or even order print from there.
http://picasaweb.google.com/bobbyhesterKY/KYDam53108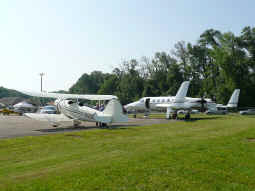 After the breakfast it was time to go to John C. Tune (JWN) in Nashville for lunch. So off we went, our course would take us right over Ft. Campbell's restricted area, so I climbed to go over it GPS said the top was 6,000 so I climbed to 7,500 and contacted Campbell. They still vectored me around it, but I did fly directly over the airfield. I work on Blackhawk helicopters in the second hanger from the top on the left side of the picture.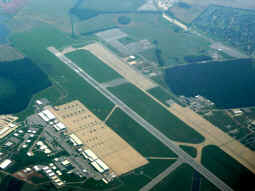 There was a really good turn out at 5th Saturday Fly In at JWN for lunch. I saw a few of my RV buddies and met a few more fly guys :-)
http://picasaweb.google.com/bobbyhesterKY/JohnTune53108
June 8-12, 2008
Well today I saw that one of my main tires was showing one spot that looked like it was time to be changed. I have just over 200 hrs, 257 landing and 14 months on my original tires. That's not bad from compared to what I have heard from others. I also tried using some stuff on my brake calipers to try to get them to stop squealing, it did not work for me :-( While I was at it I decided to lay some fiberglass up over the inside ends of the ramps on the inside of the upper cowl. This is suppose to insure that you do not loose engine cooling air that might be getting by the front engine baffles. I think that it may have helped a little.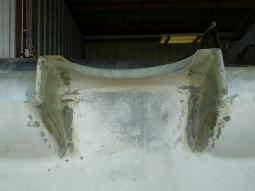 June 14, 2008
Today my buddy Richard and I flew about 15 minutes over to Russellville for their fly-in lunch. Good times meeting up with fly buddy's to swap some stories and meet a few new buddies.
June 21, 08
Owensboro, KY had their 3rd Saturday breakfast today and the airport was also having an open house. Richard and I walked around and looked over some of the planes and things.
My wife Marsha and I were not watching the grandkids today so Marsha said that she would be willing to fly to Sikeston, MO to eat dinner at Lambert's Cafe. She has not flown very far with me yet. She does not like to fly if it is going to be bumpy. It was suppose to be smooth, so she decided to give it a try. I told her when we was about 10 mins away and she did not believe that we were nearly there already. 5 yrs - 7 months of building, 117 straight line miles each way, 165 mph true airspeed, 50 mins each way, 10 gals of fuel burned , Getting the wife to fly with me priceless!