My 2009 Jan-July Flying Adventures
Jan. 12, 2009
Good day today for me, DynCorp called me back to work. I go back Friday Jan. 16!
I flew yesterday and my flaps quit working again, 2nd time. This is a problem that is known by RV guys. Van's has great instructions on their web site explaining the problem and how to fix it, it's in the Construction FAQ area. I printed them out and headed to the airport. After taking the motor off and disassembling it, it was easy to see how it happens and I followed the directions and got it all cleaned up and back in the plane, works great, should be good to go for another 2 yrs at least. I forgot my camera so I didn't get any pictures.
Feb. 1, 2009
Today was warm so I went to the airport and my granddaughters just had to go also. They wanted to ride on their toys that I have in my hanger. My oldest grandaughter, 6yrs old, Lexie asked Lainey, who's 3yrs old, if she wanted to go fly. Lexie has flown with me a few different times but Lainey has not ever wanted to. Well today she decided that she wanted to. I didn't have much time before evening church service, so I got the cushions all set up and got them buckled in. Off we went for a short ride around the patch. Lainey's first airplane ride. She really liked it :-) It doesn't get any better than this!
Feb.16, 2009
Working on my 2nd condition inspection. I changed the brake pads today. I used the die set that I bought from Avery Tools, they fit into a regular rivet squeezer and work great! Here is the link to the website:
http://www.averytools.com/p-173-die-set-for-setting-brake-rivets.aspx

I had 449 take off and landing and 276 hrs. on these pads. I checked the old pads they measured 0.130 they still had a little ways to go before reaching the rivet heads. I installed Rapco pads, hope they last as long. Engine pressure checks are still great 76 78 78 76.
Feb. 17, 2009
Well last night I decide to try to replace my Garmin 296 internal battery. This is the one I used, Sanyo battery from Digi-key SY103-ND. It had gotten to the point that it would not locate itself very fast after sitting for more than a few days. The battery is rechargeable but after a few years it will not recharge. I got it changed and it powered up ok, it took a long time to find itself. I left it on and charging overnight. I turned it off this mourning and when I started down the road I turned it back on and it found it's self as soon as it came on. I turned it on again after work and it only took a few seconds. I am going to leave it off till Sunday mourning and see if it finds itself quickly if it does the battery replacement will be a success. Here are some pictures I took of the process:
http://picasaweb. google.com/ bobbyhesterKY/ GarminIntBattery Replacement
Feb. 22, 2009
Well it worked! I left my GPS off since Tuesday. Took it to the airport today put it in the plane pulled it out of the hanger turned on the GPS and within about 10 seconds it found itself. It's official replacing that soldered on internal battery is the only fix when your Garmin 296 and the likes start having trouble finding itself after a few years. Here are the instruction: Replacing Internal Garmin GPS Battery
Feb. 28, 2009
EAA chapter 21 - Skylane, IN ask me a few months back if I would come up and give them a presentation "How to work on your Slick Mag". I did the Slick Mag work that SB3-08A called out and took pictures for a powerpoint presentation, put it together over the last few months and presented it to charter 21 today. There were about 20-25 members present, they appeared to like it very much. They even gave me a token of their appreciation in the form of a check, not to mention the hamburger, chips, and cookie. As you can see below they have a very nice club house, it has a full kitchen, and even a fireplace.
Mar 14-15, 2009
This weekend I took my carb off for two upgrades. Epoxy foam float and main jet enlargement. I documented the whole process with pictures and descriptions. Follow this link to view the pictures: Google album Carb Work
Lots of good info here if your about to do this.
Jun 6, 2009
Today I flew over to Tompkinsville, KY for their fly-in, I got their early for breakfast. I met a very nice family that run a hobby shop in Cookeville, TN. They had a daughter, Ashley, who has been talking about joining the Airforce after she graduates in a couple years. She wants to fly and she was hoping to get a ride in a plane today. Well I couldn't leave without offering her a ride if it was ok with her parents. I told them that I could do aerobatics if she wanted to and they said that was up to her and she said she would love to. I explained how everything worked and ask her if she want to fly it, she said yes. In no time she was flying it, and doing a good job of it. I ask her if she was ready to do some rolls and a loops, she said yes and she love it. I am sure she would really like the Airforce.
Click here to see the rest of the pictures I took at Tompkinsville.
After Tompkinsville I headed over to Russellville, KY for lunch. I took some pictures of their fly-in, Click here to view those pictures. Below is a picture of Joe right after he took the last two orange popsicles and took off running :-)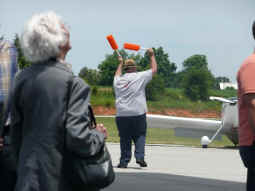 Jun 24, 2009
Greenville, KY had a Skyfest that lasted all day I flew up around lunch time. Checked everything out and then took a buddies nephew for a ride. We came back and after a little more chit chatting I flew home to get the wife and grand-daughters. We drove back to get a tethered hot air balloon ride, watch the balloon glow, and listen to some live music. Below is the link to the pictures.
Jun 27, 2009
Today we had a fly-in breakfast at our airport today, this was the first one we have had in a long time. Turn out was ok but we could have served at least another 30 people. We had about 6 planes fly in and a few people from town drove in. Click the link below to view all the pictures.
Hopkinsville, KY Fly-In Breakfast