My 2013 Flying Adventures
Jan. - Feb. 2013
Time for another condition inspection. No surprises, everything looked good. Tires should last at least another six months. Oil still has another 10 hrs. before it needs to be changed. Compression checks are all 76 to 78 over 80. Replaced the auto plugs on top for the electronic ignition and cleaned the aviation plugs.
Mar. 2013
In Albuquerque, NM with work for a while. I'm working at Double Eagle II Airport (KAEG) and would love to have my plane here. It is perfect weather here right now. Visibility here is unlimited. Not like the 5-10 mile visibility most of the time at home. I met a real nice lady, Julie Smith, that owes a T6 and does her owe maintenance also. She use to be on the US aerobatic team. I left an email on VAF site asking if there where any RV's based there. I got a few replies one right away from Douglas Dunston. He owes a RV9A and invited me to come out and take a flight with him. He treated me to a great site seeing tour of the area. Fun times, getting to fly in a RV, in a different kind of area than I'm use to. 5837 ft elevation here as apposed to 550 ft at home. 11,000 ft and we were on top of a mountain that use to be a volcano. Thanks for the ride Doug! A couple weeks later I got a ride from Ron Harmon in his Christian Eagle, what a blast, Thanks Ron! Ron showed me what a Barrel roll looks like compared to an Aileron roll, from the cockpit.

Click on the college above to see more pictures
Apr. 2013
Didn't get home from Albuquerque in time for Sun-n-Fun. But I did buy a used Garmin GDL39 ADS-B Traffic and Weather receiver. After using my buddy's XM weather I really wanted weather in the plane but I didn't want to pay a monthly fee for it. The GDL39 receives free weather. Well, I spent a day getting it all wired in with the bare wire cable. I have a Garmin 510 GPS and it is wired in and connected to my Dynon 10a which gives me a CDI screen on a course entered into the 510. That works great. The GDL39 has to be wired in-between, so the 510 outputs to the GDL39 pass-thru serial port and then on to the Dynon 10a that is suppose to make it all work together. Sounds good, but the CDI screen was only working intermittently :-( Got on VAF and left a message explaining the problem. Someone suggested reading another thread which I did and found two things that I needed to try. The first thing to try was to change the baud rate on the 510 to normal rather than fast. The Dynon can only receive at the normal rate. Did that and rebooted double checked to ensure that it staied at normal which it did. Nojoy the CDI screen was still intermittent. The next and last thing I knew to try. I read in one post from a Garmin rep, that if the GDL39 #2 serial input wire (orange/white) is not being used, it should be grounded to eliminate noise that it picks up. I ran another ground wire and connected it to the o/w wire and fired up the system. Bingo! That was the ticket! I love it when everything works the way its suppose to!

Weather - the small orange circles are TFRs

Just a couple fun flying pics
May 2013
Not flying much this month been away with work. But I have got a little in. My middle granddaughter, Lainey, wanted to go with me next time I went somewhere, so we flew over to Russellville, KY for a burger and dog at their fly-in.
My oldest granddaughter likes to go to Fly-in Breakfasts, she usually just snoozes most of the way there and back, but she does like to go :-) Shelbyville, TN Breakfast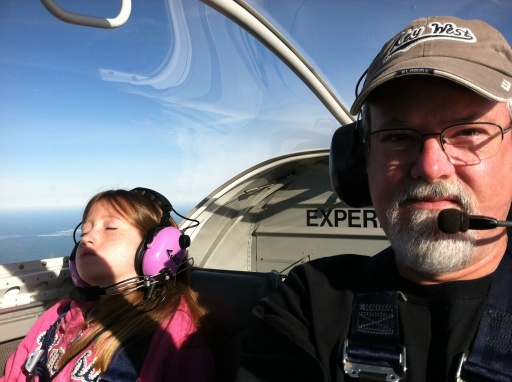 June 2013
Had a Prop Balancing Saturday at a buddies hanger in Lewisburg, TN. I dynamically balanced about five fellow RV flyers props and had a good visit.
July-Sept. 2013
Time for the Kentucky Airport Challenge. This year it starts July 1st and ends Sept. 30th. The meal and prize drawing will be Oct. 5th. End of July - I've made about four trips and knocked out about 26 of the 48. I've taken lots of photos so I'm posting them to a Google Photos web album. Click here to view them:
https://goo.gl/photos/Lvhky7wdodfds5Kh6
End of Aug. and I've knockout out 36 of the 48. I would have finished getting them all by now but it looks like I'm not going to be able to make it to the meal and prize drawing, I'll be out of town with work. If something changes I'll have one weekend to get the last 12.
Aug.-Sept. 2013
Last Sat. in Aug. and I talked Marsha into flying to Rough River for Breakfast. We were going to meet some of my buddies from Evansville but the weather was looking real iffy and some of the guys backed out. We did meet up with Mike Zeller and his grandson. Weather ended up being really nice. We did see a couple showers along the route home but we didn't get wet. The next day was the first Sun. in Sept. and my good buddy Mike Kellems invited us to a cookout at his hanger. The weather wasn't looking very good all day between here and there, but by the time to leave it looked pretty good. Marsha and I prepared some Chinese Salad and off we went, yes I said we, Marsha went with me! Mike had a good turn out of local buddies. I think his flyin buddies gave up early because the weather wasn't looking good. I kept the faith it it played out.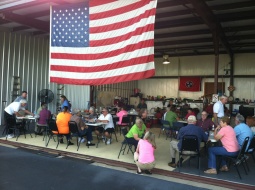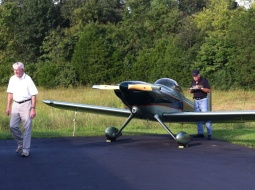 Sept.-Oct. 2013
I did not get to go to Sun-n-Fun or Oshkosh this year, I was traveling with work while they were going on. Better to make some extra money than to spent a bunch. So I've decided to go to a couple upcoming Fly-Ins as long as I'm home during them. Coming up - Sept. 4th-8th Triple Tree Aerodrome Fly-In near Woodruff, SC read all about it here:
http://www.tripletreeaerodrome.com/triple-tree-fly-in.php
We (Marsha and I) are planning to fly over Friday (vacation day) morning and camp out over night then fly home Sat. late afternoon. I heard about this Fly-In for years and never have made it, this is about to change.
Sept. 5-7, 2013
Thursday the day before Our Triple Tree trip, I decided I needed to change my RH tire. I ordered new tires a couple days ago and they were going to be delivered today. Before work I headed to the airport and removed the wheel pant, jacked the aircraft up on that side and removed the wheel. After removing, I saw that the brake pads needed to be replaced also. After work I replaced the tire and pads, cleaned bearings and repacked them, also replaced the o-ring on the brake puck. Got it all back together and bleed the RH brake lines. Friday went to Grandparents day with the granddaughters, then off to the airport. We loaded the plane and was wheels up at 0800 CDT. Flew over to Triple Tree at 7,500 ft clear skies until we were about 50 mile from Triple Tree. Had to start our decent right after passing the mountains to slip under the thin cloud layer. Arrived 2hr16mins later. That would have been a 6hr30min drive.

Click on the college above to see more pictures
The next Fly-In is the Petit Jean State Park RV Fly-In Oct. 25-27. Read all about it here:
http://www.vansairforce.com/community/showthread.php?t=103644
I went to this Fly-In a couple years ago and it was really nice. Good camping weather, nice camp fires, good food and good trails and good times.
Sept. 14, 2013
While out in Colorado Springs with work, we got off work in time to tour The National Museum of WWII Aviaition which also includes a tour of WestPac Restorations. Both are located on the west side Colorado Springs Airport. Very neat place to visit. They are building a P38 right now and we saw the wings and the fuselage in a jigs.
Here are the pictures I took while there, check them out:
https://goo.gl/photos/aceuQ17wshp5a9B76
Oct.5, 2013
Well, turns out I wasn't out of town for the Kentucky Airport Challenge meal and prize drawing. So last week I changed the oil and I replaced the LH tire, brake pads and puck o-ring. Then last Saturday I had to fly to 12 airports to get all of the 48 participating airports. Took off at 8am and was back about 3pm, got'em all! Went to the meal and prize drawing. There were 10 out of 50 pilots that got all 48. I've got all airport for all three years and still not a ipad winner :-( Maybe next year! I did win an hour of twin flight instruction and a $50 Walmart gift card from the Taylor County Airport Board. After it was over there were a few of the teenagers that take classes and work at the airport still there and one of them, John Acerman, asked if it would be possible to get a ride in my plane sometime. I had a little time and ended up taking 5 of them flying. I let them see what it was like to fly it and they all really liked it. I put all of my pictures in this album:
https://goo.gl/photos/Lvhky7wdodfds5Kh6
Oct. 25-26, 2013
I talked my wife into fly to the Petit Jean, AR - RV Flyin this year. We had a really good time. We took a lot of picture so click on the college to see all the picture.

Click on the college above to see more pictures